YEMEN RAGE. KGS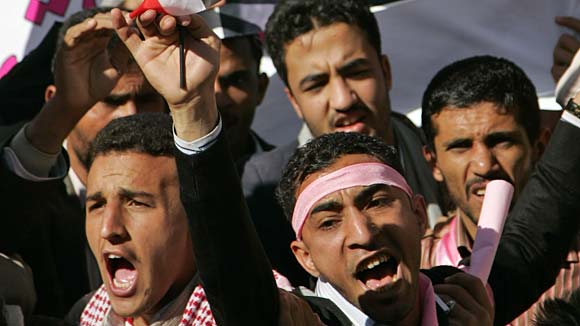 Tens of thousands demonstrate for ouster of Yemen's president
SANA, Yemen — Tens of thousands of people are calling for the Yemeni president's ouster in protests across the capital inspired by the popular revolt in Tunisia.
The demonstrations led by opposition members and youth activists are a significant expansion of the unrest sparked by the Tunisian uprising, which also inspired Egypt's largest protests in a generation. They pose a new threat to the stability of the Arab world's most impoverished nation, which has become the focus of increased Western concern about a resurgent Al Qaeda branch, a northern rebellion and a secessionist movement in the south.
Crowds in four parts of Sana have shut down streets and are chanting calls for an end to the government of President Ali Abdullah Saleh, who has been in power for nearly 32 years.