All hell is breaking loose in Egypt.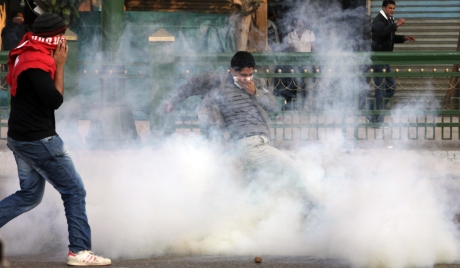 3 killed in Egyptian protests against
Mubarak
By HERB KEINON AND ASSOCIATED PRESS
01/25/2011 20:26
Wary Jerusalem watches as worst riots in years break out in Egypt; Israel fears northern neighbor en route to becoming 'Iranian satellite.' Israel's northern and southern neighbors experienced explosive protests on Tuesday, further raising tensions in Lebanon and Egypt – and causing considerable concern in Jerusalem.
Thousands of anti-government protesters, some hurling rocks and climbing atop an armored police truck, clashed with riot police on Tuesday in the center of Cairo, in a Tunisia-inspired demonstration to demand the end of Hosni Mubarak's nearly 30 years in power.
Three people were killed in confrontations around the country.
After a day of violence, thousands of demonstrators stood their ground in downtown Cairo's vast Tahrir Square, steps away from parliament and other government buildings. They promised to camp out overnight, setting the stage for an even more dramatic confrontation.
Police blasted crowds with water cannons and set upon them with batons and tear gas in an attempt to clear demonstrators crying out "Down with Mubarak" – and demanding an end to Egypt's grinding poverty, corruption, unemployment and police abuses.
Tuesday's demonstration – the largest Egypt has seen in years – began peacefully, with police showing unusual restraint in what appeared to be a calculated strategy by the government to avoid further sullying of the image of its security apparatus, widely criticized as corrupt and violent.
With discontent growing over economic woes, and the toppling of Tunisia's president still resonating in the region, Egypt's government – which normally responds with swift retribution to any dissent – needed to tread carefully.
But as crowds filled Tahrir Square – waving Egyptian and Tunisian flags and adopting the same protest chants that rang out in the streets of Tunis – security personnel changed tactics and the protest turned violent.
Around 10,000 protesters packed the square, the Interior Ministry said.
The sight of officers beating demonstrators had particular resonance because Tuesday was also a national holiday honoring the much-feared police. A policeman was hit in the head with a rock during the protest and died later in the hospital, an Interior Ministry official said.
In another demonstration in the city of Suez, two protesters were killed, he said. One of them had respiratory problems and died as a result of tear gas inhalation; the other was killed by a rock. The new head of IDF Military Intelligence, Maj.-Gen. Aviv Kohavi, told MKs that there was no significant threat to Mubarak's regime.
Speaking before the riots in Egypt escalated on Tuesday, Kohavi said opposition movements there were not unified, and the Muslim Brotherhood was not capable of taking power. Although Kohavi said that Hizbullah did not want to take control of Lebanon, diplomatic officials highlighted the fear that the country was en route to becoming "an Iranian satellite."