Sickening. This idiot of a judge should be yanked off the bench for violating the US Constitution, in his decision to approve funding of an ideology that seeks to undermine the the very constitution he swore an oath to defend. What an outrage, hopefully it doesn't end there and that the Thomas Moore Law Center has another ace up its sleeve. KGS
H/T: Weasel Zippers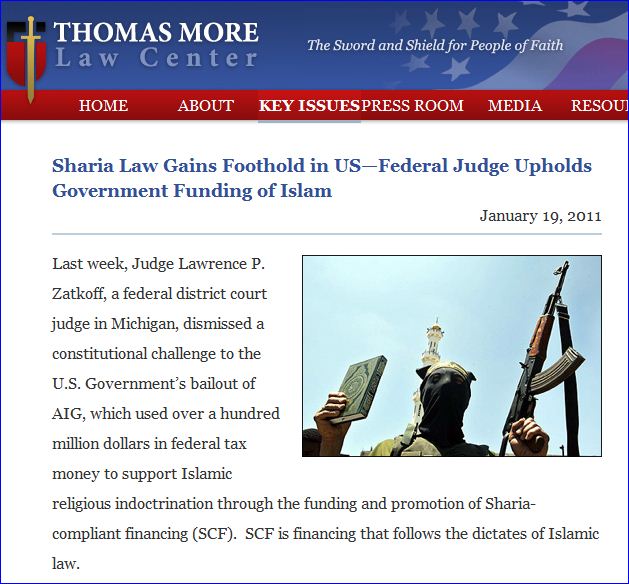 The challenge was brought by the Thomas More Law Center (TMLC), a national public interest law firm based in Ann Arbor, Michigan, and co-counsel David Yerushalmi, on behalf of Kevin Murray, a Marine Corps veteran of the Iraqi War. TMLC filed a notice of appeal immediately after the ruling and will be seeking review of the decision in the U.S. Court of Appeals for the Sixth Circuit.
Richard Thompson, President and Chief Counsel of TMLC, commented: "Judge Zatkoff's ruling allows for oil–rich Muslim countries to plant the flag of Islam on American soil. His ruling ignored the uncontested opinions of several Sharia experts and AIG's own website, which trumpeted Sharia-compliant financing as promoting the law of the Prophet Mohammed and as an 'ethical product,' and a 'new way of life.' His ruling ignored AIG's use of a foreign Islamic advisory board to control investing in accordance with Islamic law."
Continued Thompson: "This astonishing decision allows the federal government as well as AIG and other Wall Street bankers to explicitly promote Sharia law ─ the 1200 year old body of Islamic canon law based on the Koran, which demands the destruction of Western Civilization and the United States. This is the same law championed by Osama bin Laden and the Taliban; it is the same law that prompted the 9/11 Islamic terrorist attacks; and it is the same law that is responsible for the murder of thousands of Christians throughout the world. The Law Center will do everything it can to stop Sharia law from rearing its ugly head in America."
NOTE: This is in the TT's opinion, this should be a case about the federal government funding a seditious, foreign legal system that's in direct opposition to the US Constitution, and not about the 1st amendment's supposed 'separation of church and state'. There is no such wording or intent in the document.