How long will this victim-in-waiting manage to stay alive? Will the police be protecting her from her co-religionists/relatives the rest of her life? All good questions deserve an answer. British  officials seen shrugging their shoulders.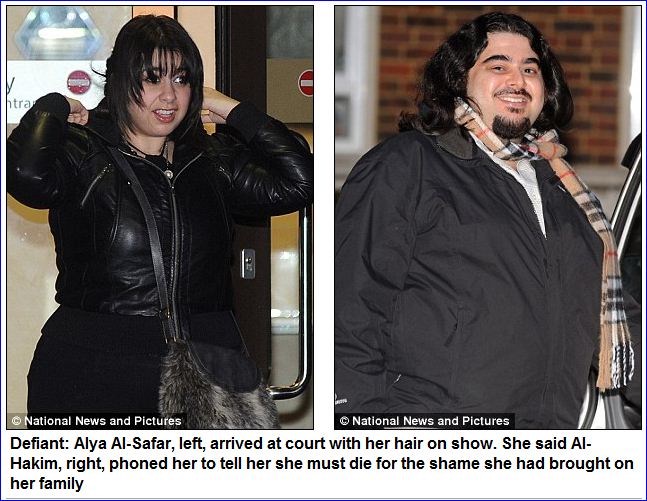 How about the shame this Shamu sized whale fundamuslim brings upon supposedly 'moderate peace loving Islam'? Oh that's right, there is no such thing as moderate and peace loving Islam, there's just Islam, so never mind. KGS
H/T: Gaia
'Wear the hijab or I'll kill you, cousin told girl': Muslim tells of terrifying phone threats
By COLIN FERNANDEZ
Last updated at 9:26 AM on 19th January 2011
Add to My Stories
A man threatened to kill his cousin and harm her family after she decided to stop wearing the traditional Muslim headscarf, a court has heard.
Mohamed Al-Hakim, 29, allegedly phoned Alya Al-Safar to tell her she must die because of the 'shame' she had brought – leaving her too afraid to leave the house.
He had already branded her family 'bitches and whores' because of her decision, the court heard.
Miss Al-Safar, 21, had stopped wearing the hijab a few days before the phone call.

She said that Al-Hakim's mother, her aunt Mardhiya Al-Musawi, 'wasn't happy' that she had stopped covering her hair – a step she had been considering for more than two years.

She received his call when she was with her parents and two younger brothers at their home in Hammersmith, West London.
[…]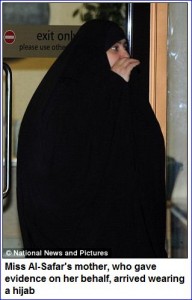 'Listen Alya, I am warning you if by the 19th of June you are not wearing the hijab back, I am warning you I will kill you and harm you. I am giving you ten days. You brought shame to your family, you should not have done that.'

Al-Hakim, who denies one charge of making threats to kill, allegedly said he thought the phone call might be taped but he warned her he was 'not afraid of anything'. Miss Al-Safar said: 'He was calm. I was so scared, I really felt scared because my cousin was threatening me.

'I didn't know if he was joking, if he was just mad, or if it was true and he would do it.

'He started shouting, "Listen to me, you had better do what I said.
'I have seen you on the Edgware Road [a busy street in central London] and if I see you again I will kill you".

'He said something about harming my father as well.