The foulness of it all is overwhelming. We've seen a UAE prince literally torture someone on video, a man love-slave in the UK brutally murdered by his boss and now this kind of barbarity of a maid being brutalized by her employer, and sadly, it's a recurring theme among a certain religious group.  KGS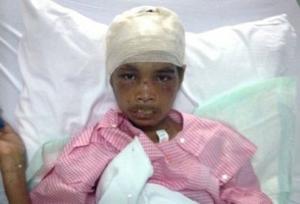 'Abused' Indonesian maid shows wounds to Saudi court
Female Saudi employer denies stabbing, beating, burning Sumiati in court, saying maid has beaten herself.
Middle East Online
The Saudi woman's son has earlier testified against his mother
RIYADH – An Indonesian house maid who has accused her female Saudi employer of stabbing, beating and burning her appeared in court for the first time on Wednesday and showed her wounds, an Indonesian official said.
Sumiati Binti Salan Mustapa, 23, "showed the judge her injuries, especially her head," said Diddi Wahyudi, an Indonesian consular official in Jeddah.
The Saudi woman was arrested after allegedly beating Sumiati so severely as to break bones and cause internal bleeding, putting a hot iron to her head and stabbing and slashing her with scissors.
During the hearing, the woman "denied everything, saying that the maid has beaten herself," Wahyudi said by telephone.
But "the judge said that everybody knows from these pictures that (the maid) must have been beaten by someone" when he was showed photographs of Sumiati's wounds, Wahyudi added.