THE SAUDI NOOSE
TSN: THIS ESCAPADE WAS RIGHTFULLY MET WITH ROCKS AND SHARP OBJECTS, WE WOULD LIKE TO THANK ALL THOSE WHO PARTICPATED…….
You think he would have figured out the reaction to his experiment of driving-while-burkaed … beforehand. KGS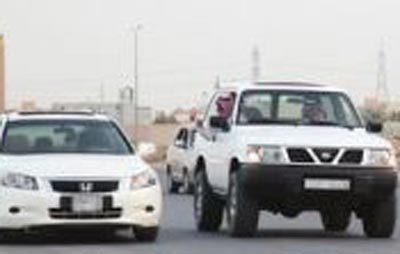 Scribe drives as woman to test reaction
EMIRATES 24/7: A Saudi journalist thought of an innovative idea of how to test public reaction to seeing a woman drive a car in the Gulf Kingdom which still bars females from driving despite occasional acts of defiance by some women.
Saad Al Salim said he decided to disguise as a woman by wearing the traditional black gown and face veil and drive his car through the streets of the capital Riyadh. At the end of his three-day adventure, he found it a "bitter experience."
The journalist from the Saudi Arabic language daily Shams said he prayed on the first day of his adventure that he would not be caught by the police or the feared members of the Commission for the Promotion of Virtue and Prevention of Vice.
"I was not caught but it was a bitter experience from the beginning…as I started driving, my car came under attack by rocks and sharp objects," he said.
"These attacks did not stop as I drove from one area to another…at the end, I decided to take the gown off and drive back to office."
Salim said he was harassed again as he drove on the next day but that the reaction was less violent.