And to think that last year a Finnish court found Helsinki city councilman, Jussi Halla-aho, guilty for saying  on his blog that  Mohamed was a pedophile. Indeed, truth is no longer a defense. KGS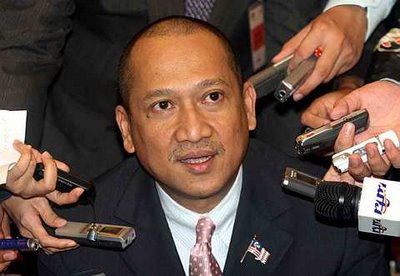 Datuk Seri Nazri Aziz: "If the religion allows it, then we can't legislate against it. Islam allows it as long as the girl is considered to have reached her pubescent stage, once she has her menstruation."
H/T Tanguy Veys
Underage marriages are allowed in Islam, says Nazri
Kuala Lumpur: Minister in the Prime Minister's Department in charge of legal affairs has shot down calls to ban underage marriage, despite an uproar over the recent wedding of a 14-year-old Muslim school girl. Siti Maryam Mahmod wed 23-year-old teacher Abdul Manan Othman last weekend in a mass wedding at a major mosque, after being given permission in an Islamic Sharia court.
Malaysian Muslims below the age of 16 are allowed to marry as long as they obtain the permission of the religious courts. Sharia law runs in parallel with civil law in the multi-ethnic country.
However, Datuk Seri Nazri Aziz said the Government has no plan to review laws allowing for underage marriages because the practice is permitted under Islam. "If the religion allows it, then we can't legislate against it," he told a press conference. "Islam allows it as long as the girl is considered to have reached her pubescent stage, once she has her menstruation."
However, Siti Maryam's marriage has sparked criticism including from Women, Family and Community Development Minister Datuk Seri Shahrizat Abdul Jalil, who insisted the Government did not condone the practice.