The Tundra Tabloids loves it when the Muslims pull their long knives out on each other. As in the Alien vs. Predator movies, do we really care which side wins? It's how many of the other they take out in the process that matters most. KGS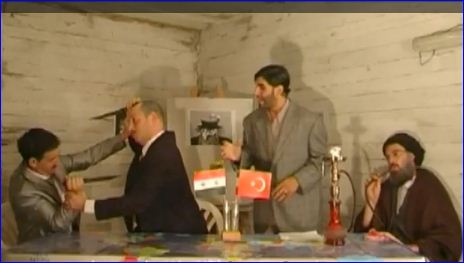 NOTE: LATMA TV: Erdogan  and Assad wanting to give the other a shave.
WikiLeaks: Saudi FM proposed plan to destroy Hizbullah
Cable reveals Saudis suggested "Arab force" to maintain order in Beirut; president of Tunisia predicted takeover of Egypt by Muslim Brotherhood.
The moderate Arab states' fear of Iran and Islamic radicalism continued to pour forth from documents released by WikiLeaks Tuesday night, with the Saudi foreign minister proposing an Arab security force two years ago to keep Hizbullah in check around Beirut, and the Tunisian president predicting that the Muslim Brotherhood would "sooner or later" take over Egypt.
According to a cable written on May 14, 2008, by Michael Gfoeller, the US deputy chief of mission in Riyadh, Saudi Foreign Minister Prince Saud al-Faisal proposed in a meeting with senior State Department official David Satterfield an Arab "security response" to Hizbullah's siege of Beirut that month.