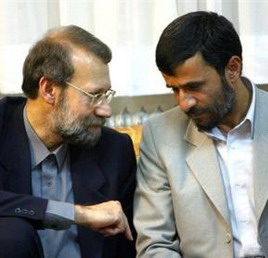 Larijani: The Yanks are weak now Moody,
this latest smack down is sure to work
The need to act against Iran couldn't be greater. The Iranians keep upping the ante, daring the West to act against their interests, with each line drawn in the sand by the international community, only to be kicked by an amused Tehran regime. This statement by Larijani once again shows that the "containment scheme" being promulgated by the Obama administration of Iran, to be a major mistake of colossal proportions. The time to act is now. KGS
English.News.CN
: TEHRAN, June 16 (Xinhua) — Iran's Majlis (Parliament) Speaker Ali Larijani warned the West and certain countries with retaliation if they try to inspect Iranian planes and ships following last week's UN Security Council sanctions resolution against Tehran, the English language satellite Press TV reported on Wednesday.
"I am warning the U.S. and certain adventurous countries that in case they plan to inspect the cargo of Iranian ships and planes, they should rest assured that we will do the same in the Persian Gulf and the Sea of Oman (with their ships)," Larijani was quoted as saying.
"This retaliation would be part of our policy to protect our national interests," Larijani added.