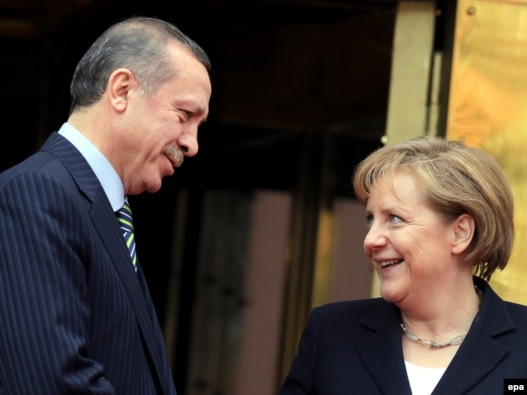 Angel Merkel: Play by the rules or don't play at all
For a European politician, Germany has a no nonsensem tough leader in, Angela Merkel. The Tundra Tabloids wishes that Merkel would show that same strength in defeating the EU "super state" in particular and Eurabian projects in general, but saying no to Turkey has to be applauded.
The Turks however are in this for the long haul, and with each mention of the rule, they shrug their shoulders and play victim, while waiting out the political term of the critic. The question remains, are there ample examples of EU politicians waiting in the wings with the same willingness to demand from the Turks a strict adherence to the rules as Germany's Merkel? That remains to be seen, and the Turks are betting on that there isn't. KGS
"What, no hijab? Islamist would-be caliph Tayyip Erdogan must have taken German chancellor Angela Merkels to the cleaners, where they did a bit of good old fashioned Islamo-fascist brainwashing on her: Before she went, she told Germans that there wouldn't be any Turkish (Islamic) universities in Germany. Now, upon her return, she's not so sure anymore: from

PI (in German)"
NOTE: It just goes to show how much of a mess Europe is in, even the best of the Euro politicos are would be shunned in an earlier age.
Merkel tells Turkey EU talks 'open-ended'
30 March 2010, 02:23 CET
(ANKARA) – German Chancellor Angela Merkel told Turkey Monday that its membership talks with the European Union did not guarantee accession and urged it to grant trade privileges to EU-member Cyprus.

"The rules of the game have changed" since Turkey first applied to become a member of the bloc five decades ago, Merkel said through an interpreter after talks with Turkish Prime Minister Recep Tayyip Erdogan.

"The (accession) negotiations are an open-ended process. We should now pursue this open-ended process," she added, suggesting that Turkey's integration with the bloc does not have to be full membership.

Along with French President Nicolas Sarkozy, Merkel remains one of the staunchest opponents of Turkey's bid to join the European Union, arguing that a vast, relatively poor country with a mainly Muslim 71-million population has no place in Europe.

She has instead proposed a "privileged partnership" between Turkey and the bloc, an alternative Ankara flatly rejects.

Merkel however stressed the immediate task for Ankara was to open its ports to vessels from Cyprus — an EU member Ankara does not recognize — under a customs union accord with the Union.

"The most important issue is the implementation of the protocol… We have to deal with the Cyprus issue. That would be to the benefit of us all," she said.

Turkey's refusal to grant trade privileges to Cyprus has led Brussels to freeze talks in eight of the 35 chapters that candidates must successfully negotiate prior to membership.

Since starting the talks in 2005, Turkey has so far succeeded in opening only 12 chapters.