Nope! And lets end the EU before they ever get the chance.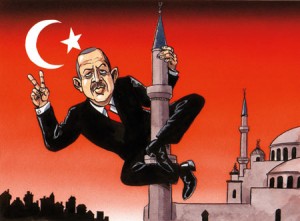 Turkey? In the EU?
"The EU needs Turkey more than Turkey needs the EU. Let everyone know it like that." — Turkey's President Recep Tayyip Erdogan.
On April 25, Deputy Prime Minister Mehmet Simsek, while speaking at the High-Level EU-Turkey Economic Dialogue meeting in Istanbul, said that the full membership process to the European Union was Turkey's most crucial strategic target.
Simsek noted that Turkey will increase the quality of its institutions, strengthen the rule of law and complete the approximation process with Europe by running a reform process.
Turkey's President Recep Tayyip Erdogan, however, has made affectionate statements expressing his admiration not for the European Union, but for the last Islamic caliphate — the Ottoman Empire, an expansionist Islamic realm that committed massacres, rapes, and sexual slavery of people in the lands it invaded.
In Istanbul on May 30, 2015, in a public meeting celebrating the 562nd anniversary of the fall of Constantinople, Erdogan, sounded more like an Ottoman sultan than the leader of a NATO member nation.
He praised "hoisting the flag of Islam in Jerusalem again" and "stamping the seal of Islam on Al-Aqsa Mosque." According to some media outlets, two million people attended the event and cheered him.
"What is the conquest?" Erdogan asked his audience.
"The conquest is Hijrah [expansion of Islam through emigration, following the example of Muhammad, the founder of Islam, and his followers from Mecca to Medina]. The conquest is Mecca. It is to cleanse the Kaaba, the house of Allah on earth, of all the icons. The conquest is Jerusalem. It is when the prophet Omar stamped the seal of Islam on Al-Aqsa Mosque, our first Qibla [the direction to face when a Muslim prays during the five times daily prayers] while respecting all faiths including [those of] Christians and Jews.

"The conquest is Al-Andalus [Muslim Spain]. It is to build the most beautiful architecture, literature and culture of the world such as in Córdoba and Granada.

"The conquest is Samarkand [a city in present-day Uzbekistan and once a capital of the ancient Sogdian civilization whose main religion was Zoroastrianism.]

"The conquest is Bukhara [also in present-day Uzbekistan. It was a diverse city with Zoroastrian, Buddhist, Jewish and Nestorian Christian communities]. It is to establish one of the greatest civilizations of history in the steppes of Central Asia.

"The conquest is Salah al-Din al-Ayubbi [Saladin, who in 1187 invaded Jerusalem].