The Islamic world hasn't forgotten this sign of weakness, reinforced by the crying EU minister Federica Mogherini. 
Dr.Gerstenfeld's latest article on how various European countries in the past made deals with terrorists, even if these had killed their own citizens. It was published in the Jerusalem Post without footnotes published here with the author's consent.
TERROR AND EUROPEAN DEMOCRACIES: THEN AND NOW
Manfred Gerstenfeld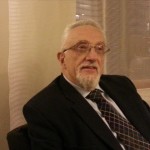 Europe is once again being held hostage by Muslim terrorism, following the lethal attacks in Brussels. Politicians and public figures have made the usual nebulous comments. To pick one out, Swedish Prime Minister Stefan Löfven, said: "it is an attack on our democratic Europe. We will never accept terrorists attacking our open societies."1
For Israelis, the terrorist attacks in Europe bring back to mind a period several decades ago, when Israel and those in any way connected with it were targeted by global Palestinian terrorism. Several European democracies then tried to come to an understanding with the terrorist organizations: they would not prosecute murderers of Israelis, or even their own citizens. In return, their own countries would not be attacked.
A clandestine agreement between the Swiss government and the terrorists of the Palestinian Liberation Organization made 45 years ago was recently disclosed in a book by Swiss journalist Marcel Gyr.2 Switzerland had been the victim of three Palestinian terror attacks. In 1969, a Palestinian terrorist shot at an El Al plane at Zurich airport, killing its Israeli pilot. The Swiss arrested the terrorists. In 1970, a bomb on board a Swissair flight to Tel Aviv exploded outside Zurich, killing all 47 passengers and crew. Later that year a Swissair flight on its way to New York was hijacked. It was redirected, together with two other hijacked planes, one British and the other American, to an airfield in Jordan where all three planes were destroyed.3
From Gyr's book we learn that the then Swiss foreign minister Pierre Graber, who died in 2003, made a secret agreement with the PLO shortly after the 1970 hijack. The intermediary was Jean Ziegler, a notorious anti-Israel inciter and self-proclaimed human rights activist. He was a Swiss parliamentarian at the time, and is currently still active as a member of the Advisory Committee to the United Nations Human Rights Council. Ziegler has recently admitted his role in this obstruction of justice and apologized to the family members of the victims.4
As a result of the agreement the murderers of the Israeli pilot were released, and the investigation into the attack on the Swissair flight was halted. This is a prime example of a democracy deliberately assenting to the betrayal of justice for its own murdered citizens. In March this year Gyr revealed that Europe's top international terrorist Carlos, now imprisoned for life in France, had told his lawyer that he always considered himself very secure when he was in Switzerland.5
The Swiss were ahead of other European countries which reached agreements or tried to do so with Palestinian terrorists. The German government was the next in line to try to reach such understandings. At the Munich 1972 Olympics eleven Israeli athletes and a German policeman were murdered by the Black September organization. It took forty years until it became known that a few months after the murders, a German government representative Walter Nowak was trying to reach a deal with Black September.
Nowak was then German ambassador to Lebanon. He met with Abu Youssef, a founder of Black September, for a two-hour conversation. Nowak offered Abu Youssef and his terror movement the possibility of "a new basis of trust" with the German government. Furthermore, a possible secret meeting in Cairo was discussed, to be held between Abu Yousef and the German Foreign Minister at that time, Walter Scheel. This former member of the Nazi NSDAP party, after the Second World War reinvented himself as a leader of the Liberal Party, and became Germany's President in 1974 .
A week after that meeting Israel killed Abu Yousef together with other Palestinian terrorists responsible for the Munich murders. Nowak was quoted as saying that the dead Palestinians were among the most "rational and responsible" members of the PLO. He wrote in a letter to the German authorities that the Israelis may have killed Abu Youssef and the others in order to hinder the peace process in the Middle East. The 2012 article in Der Spiegel which describes this and much more German kowtowing to the Palestinians after the Munich murders is a damning indictment of then Social Democrat Chancellor Willy Brandt and his government.6
The French and Italians also had their share of dealings with Palestinian terrorists. Abu Daoud the leader of the Palestinian Munich murderers was arrested by France in January 1977. Germany and Israel asked for his extradition. The French authorities refused, giving reasons which were largely obscure.7 They allowed Abu Daoud to travel on to Algeria.
In 1985 the terrorist organization Palestinian Liberation Front hijacked the Italian cruise ship Achille Lauro. The Palestinians killed the wheelchair-bound Jewish American Leon Klinghoffer and the ship went on to Egypt. Although the Egyptians gave the hijackers free conduct to Tunisia, an American military plane brought the Egyptian plane down on Italian soil.
The Italians arrested the Palestinian hijackers, but let their leader Abu Abbas go free. They claimed that the evidence against him compiled by Washington was insufficient and that he held an Iraqi diplomatic passport and therefore had immunity. Within two days Abu Abbas had slipped out of Italy, evading capture until he was arrested by American forces in Iraq in 2003.8 The other hijackers were condemned to jail terms by the Italian justice system.
Francesco Cossiga, who was Italian Prime Minister from 1985-1992 admitted that his predecessor Aldo Moro, also a Christian Democrat, had signed a "secret non-belligerence pact between the Italian state and Palestinian resistance organizations, including terrorist groups." The pact allowed for freedom of movement of Palestinian terrorist groups — with the exception of that of Abu Nidal — within the country in exchange for immunity from attacks in Italy.9
We now know that accommodating terrorists has not helped European states in the long run. On the contrary, it has prevented them from developing any rigorous policies defining who they will or will not allow into their countries. This is combined with inadequate intelligence and poor surveillance techniques.10 One only has to look briefly at the pictures of the suspected murderers at the Brussels airport. Anybody minimally trained in profiling would have honed in on them even before they entered the airport, and tagged them for further security checks.
It will probably take European leaders many more years, at a cost of additional fatalities, to even accept that the simple first step to reduce terror attacks is through profiling of suspects, and that this is far from turning democracies into police states. Further avoidance of profiling will only facilitate additional terrorist attacks on European democracies. It will also lead to more vacuous condolences offered by politicians to the victims and their families for deaths and maiming that could have been prevented.
Footnotes: