The audacity of Muslims (and their lackeys) labeling others as bigots for not wanting to import antisemites.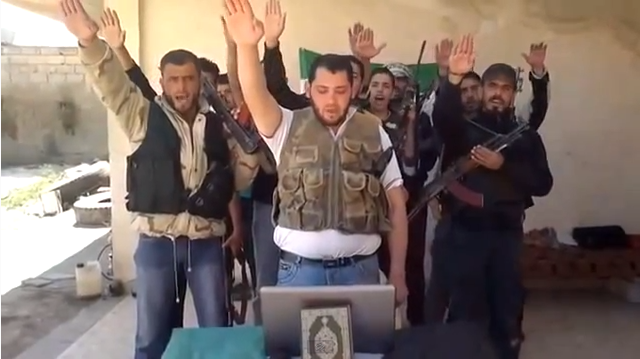 SYRIANS AREN'T LIKE HOLOCAUST VICTIMS, THEY THINK THE HOLOCAUST WAS A GOOD THING
"Allah willing, the next time will be at the hand of the believers."
December 10, 2015
The most cynical meme of the already cynical debate about Syrian Muslim migrants is the claim that they're just like Jews during the Holocaust. Except that nobody is seeking to wipe out Sunni Muslims. Sunni Muslim terror groups however are trying to exterminate Christians and Yazidis.
Despite that, Obama applied his own UNHCR refugee religious test and only took in 1 Syrian Yazidi, 53 Christians and a few thousand Sunni Muslims.
Oh and there's one more problem with the false analogy. Syrians think the Holocaust was awesome and the Jews had it coming.
Syrian children are also taught that Jews are evil and a false people and that their religion does not make them a nation. Syrian textbooks praise the Holocaust as a positive event.
That last part comes from the "Nationalist Socialist Education Textbook". Might have something to do with the fact that the dominant Syrian political movements on both sides, Baathists, SSNP and the Muslim Brotherhood, were heavily influenced by Nazism. The SSNP stands for Syrian Social Nationalist Party. Its logo is pretty much a swastika.
Other stuff Syrian kiddies are taught…
Israel was never inhabited by Jews, nor is Jerusalem holy to them… The Jews were foreign occupiers and accused of violating the holy space with their presence. It is the Muslim obligation to evict them from the city.
Also terrorism is really great.