Drop kick this islamo-pedaling sharia merchant out of the country.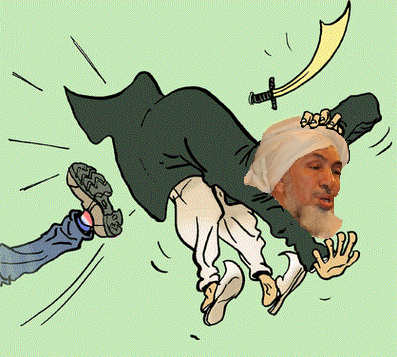 Shame on the Finnish government, the Finnish Lutheran Church, former president Martti Ahtirsaari's CMI and the rest, for bringing this sharia spreading liar and Islamic supremacist to Finland.
This guy is riding on an Islamic high, Muslim infiltration into Europe is going on at breakneck speed, he doesn't have to support violent jihad when hijra jihad is proceeding along unrestricted.
The goal of jihad is to instil the sharia, how they manage it is only an operational question, through violence or by over islamization, why blow people up when they are getting pretty much everything that they want?
NOTE: The man sitting next to him at the table, the Finn, is Pekka Haavisto, the well know (in Finland) openly homosexial politician.
Islam, top expert: Violence can not be justified by religion
People doing terrorist attacks  are criminals and do not represent Islam, said the world's leading expert in the faith's doctrine and in Islamic law, Shaykh Abdullah bin Mahfudh ibn Bayyah, said in Helsinki on Monday.
"It is therefore you shouldn't talk about Islamic violence, but the people who tend to falsely and justify the deeds in the name of religion."
Bin Bayaah talked at the National Dialogues conference in the opening of the House of Estates in Helsinki. He took a strong stand in his speech on the series of terrorist attacks taking place on Friday in Paris.
"When someone uses religion to explain the act of violence, religion is one of the victims. We need to spend a lot of time articulation of religion and to explain in a way that supports humanity and peace, "he said.
Bin Bayyah will chair the Forum, which promotes peace in Islamic communities and is one of the most potent anti-violent extremism speakers from the Islamic world.
He came to the conference Finn Church Aid Peace Network was invited.
Imams may be messengers of peace
Bin Bayaahin according to the Islamic community has sought to act against terrorism in many ways very recently.
"We educate religious leaders and ordinary people, so that they understand the possibility of peaceful co-existence between religions. We train imams, to enable them to be messengers of peace. "
"We do not have armies, but we have the power of our words," he stressed.
Bin Bayyahin that it is particularly important to share the peaceful message of Islam, as well as the media and through, especially social media. This is capable of affecting also the fact that the attractive violence message gets domination in poor and remote areas.
"I appeal to all governments to join this cultural dialogue. The only way to promote peace and peaceful coexistence, "Bin Bayyah said.
Participating in the dialogue to be a real opportunity to influence
That's what Paris and elsewhere is happening now, says the moderate Islamism contributed to the failure so far, said postdoctoral researcher Thania Paffenholz in his speech.
"But it does not mean that we should give up."
"For example, women may have answers that men do not have," he said.
Paffenholz stressed dialogue and participation in quality bringing peace to the different areas of conflict.
"The sheer number of participants is not sufficient to guarantee the quality. It is easy to take a huge amount of participants. Then conducted a long and complex debate and, finally, the same small group of old men make the decisions. "
This, he says, for example, fed the frustration of peace efforts in Yemen.
The world's leading peace and reconciliation work of the experts continue to discuss National Dialogues -konferessissa until Wednesday evening.
The conference organized by the Finnish Ministry of Foreign Affairs. Arrangements shall also accompanied by four NGOs: Finn Church Aid, Crisis Management Initiative, Finnish Evangelical Lutheran Mission, and the Common Space Initiative. NGO cooperation coordinated by Finn Church Aid.
NOTE: "Following the recent terrorist attacks in Paris, millions of people are once again trying to understand the relationship between Islam and terrorism. Both peaceful Muslims and jihadists quote the Quran to justify their views. In this video, David Wood examines two verses of the Quran to determine the Quranic stance on terror."