And with Europe being led by socialists and neo-statists who are hell bent on importing more and more jew hating muslims into europe, well, the situation is not going to get any better, in fact, it's going to worsen.
NOTE: This appeared today's Jerusalem Post, and republished here with the author's consent.
EUROPE'S FEEBLE FIGHT AGAINST ANTI-SEMITISM
Manfred Gerstenfeld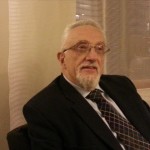 Earlier this month, the Fundamental Rights Agency – an official European body — published a review of anti-Semitism in Europe over the period 2004-2014.1 Perhaps the most significant observation on studying the document is that no data was supplied by several member countries, and that data collected differ greatly from country to country. Many Jews do not even think it worthwhile to report anti-Semitic incidents to the police.
When data for problems which were known ten years ago is allowed to remain insufficient, not much more is required to prove that the EU does not make serious efforts to fight anti-Semitism. The establishment of a solid data base is an essential first step for the development of a broad plan to fight anti-Semitism.
The FRA report mentions the main perpetrators of anti-Semitic incidents in the following order: "neo-Nazis, sympathizers of the far right and far left, Muslim fundamentalists and the younger generation, including school children. There are also incidents of public anti-Semitic discourse on university campuses."2
The order of the perpetrators as presented by the FRA is suspect. Those familiar with European anti-Semitism know that on an overall European basis Muslims should be placed at the top of the list. The murders of Jews because they were Jews in the current century in France, Belgium and Denmark have all been perpetrated by Muslims.3
In view of the social climate in Western Europe only a few Jewish experts have dared to point out that the majority of anti-Semitic incidents in their country are caused by Muslims. One of them was Esther Voet, when she was director of the Dutch pro-Israeli defense organization CIDI. She stated that the number of anti-Semitic incidents reported in summer 2014 in The Netherlands was equal to the total number of incidents in the year 2011-2012. Voet estimated that two-thirds of these are perpetrated by non-Western immigrants or their descendants. It was a euphemistic reference to Muslims who represent at most seven percent of the Dutch population.4
Sammy Ghozlan, president of the National Bureau for Vigilance against Anti-Semitism in France was quoted as saying, even before Protective Edge, that the vast majority of physical anti-Semitic attacks in France are committed by Muslims.5
The FRA is the successor of an earlier body, The European Monitoring Center for Racism and Xenophobia (EUMC). This organization was officially established through a European Council Regulation in 1997. In 2003, the EUMC attempted to suppress a study about European anti-Semitism it had ordered from the Center of Research of Anti-Semitism at The Technical University in Berlin (CRA). In response to the suppression of their conclusions, the CRA researchers stated that the emphasis they had given to Muslim anti-Semites and anti-Zionists was inconvenient for the EUMC. By not putting Muslims first among the current perpetrators, this is apparently still inconvenient for the FRA.6
The FRA itself has also hampered the fight against anti-Semitism.
In 2013 it removed the EUMC working definition of anti-Semitism from its website, which had been prepared by a group of experts in 2005.7 The existence of a definition is crucial for fighting this form of hatred. The suppressed definition was inconvenient for the EU as it lists the use of double standards against Israel as anti-Semitic acts.8 This would effectively label the EU as a perpetrator of anti-Semitic acts.
Within the EU Commission, its Dutch Vice President Frans Timmermans is now responsible for the fight against anti-Semitism and Islamophobia. This intelligent and cunning former Dutch Foreign Minister is a member of the anti-Israeli Dutch Labor Party.9 Often when Israel is at stake he will make some valid remarks and then somehow insert a distorting twist.
At the first Forum of Fundamental Rights, at the beginning of this month Timmermans addressed anti-Semitism and Islamophobia.10 His speech was vintage Timmermans. He mentioned that "anti-Semitism sometimes tries to hide itself behind anti-Zionism." For an observer of the European scene, this is an understatement. The "sometimes" should be replaced by "frequently." He began to stray considerably from reality when he compared the current refugees with the Jewish refugees of the 1930s, saying with emotional emphasis "The only thing that is different is that the refugees today come from somewhere else and have a different background." He conveniently forgot to mention that, among other differences, many of the current Muslim refugees were raised in an environment where they have been instilled with extreme hatred of Israel and Jews for decades.
Timmermans announced that the European commission is going to appoint two coordinators, who will report respectively about anti-Semitism and Islamophobia. They will report directly to him. This is a positive initiative.
Two important observations should however be made here. First, the anti-Semitism coordinator should be charged specifically by Timmermans to deal with anti-Israelism as well. If he does not do so, he cannot function effectively in the EU environment where forty percent of the population over 16 years old hold the extreme anti-Semitic stereotypical belief that Israel is conducting a war of extermination against the Palestinians.11 Much of the widespread European anti-Semitism manifests itself as anti-Israelism. It has been pointed out in letters in the past to the previous Heads of the EU Commission and the president of the European Parliament by the Simon Wiesenthal Center and the Gatestone Institute. The vague answers they received indicated that there was no desire to change anything.12
The second observation is that Timmermans should charge the anti-Semitism coordinator to devote significant attention to Muslim anti-Semitism. If he does not do so, Jewish organizations should approach Euro-parliamentarians to ask the European Commission questions why this Coordinator does not give Muslim anti-Semitism and anti-Israelism the great deal of attention they so obviously require.
FOOTNOTES: 
3 Ruthie Blum, "Antisemitism Scholar Decries 'Commemoration Discrimination' on 43rd Anniversary of Munich Massacre", The Algemeiner, 6 September 2015.
4 Naama Lansky, "Sakana Berura Umijadit," Israel Hayom, 22 August 2014. [Hebrew]
5 "Report: Gang of youths taser French Jew at Paris monument," JTA, 11 June 2014.
6 Manfred Gerstenfeld, interview with Professor Amy Elman, "Op-Ed: How European Agencies Suppress Key Anti-Semitism Data," Israel National News, 23 September 2014.
7 Sam Sokol, "Israel Urges EU Human Rights Body to Return 'Anti-Semitism'
Definition to Website," The Jerusalem Post, 6 December 2013.
8 Working definition of anti-Semitism, Coordination Forum for Countering Anti-Semitism (CFCA), //antisemitism.org.il/eng/Working%20definition%20of%20antisemitism.
9

Manfred Gerstenfeld, "Will the EU Delegate to the Global Anti-Semitism Forum Tell the Truth?"

Israel National News

, 3 May 2015.
10 "Opening remarks of First Vice-President Frans Timmermans at the First Annual Colloquium on Fundamental Rights," European Commission Press Release Database, Brussels, 1 October 2015. (//europa.eu/rapid/press-release_SPEECH-15-5754_en.htm)
11 Manfred Gerstenfeld, ": The Widespread German Hatred of Jews and Israel," Israel National News, 2 July 2015.
12 Letter from Gatestone Institute New York to Mr. José Manuel Barroso, President of the European Commission, 25 March 2014.
Letter from Rabbi Abraham Cooper, associate Dean of the Simon Wiesenthal Center Los Angeles to Mr. Martin Schulz, President of the European Parliament, 18 February 2014.
TT NOTE: The equating of irrational based Jew hatred (antisemitism) with that of the fallaciously named "islamofauxbia" (factual critique of Islam and corresponding muslim behavior) is a crime in itself. What at times might be called anti-muslim related crime (ripping of a hijab, attacking their person and other forms of violence etc), by no means should be confused with the term (ruse) of "islamofauxbia", a label that defies description by those who wield it about like an iron club.
CSP's Stephen Coughlin at OSCE Warsaw 2013: 
But what I saw today was a refusal to give a definition, and I think in large part because you can't.

Now the thing about it is, the term Islamophobia is applied to people for the purpose of attacking them. And so I noticed, sir, you brought up the fact that you work for Runnymede. It's not lost on me that the OIC's observatory publications, annual observatory reports, relies on Runnymede for the terms that they go after to attack people. And in fact, I just pulled one up right now where they're quoting Runnymede.

So I think there's something just not quite right about how this discussion is going. I mean, all people asked was that you define the term you're going to use to attack people, when you attack them, when it's clear that the OIC has observatory reports to go after people for doing exactly that.

So I mean, if the people writing this book find that the terms is so complicated they can't define it, maybe they should defer to somebody else or maybe they should suspend use when attacking people when they can't get their hands around it. I mean, there's just something not right about this. Cause you did say you were going to give us an in detail discussion of what it means and that has not happened. [APPLAUSE]