But what would a FPÖ government do vis-a-vis Iran, allow the continuation of business deals with Iran?
NOTE: Just a jolt of reality here folks.
FREEDOM PARTY OF AUSTRIA ON VERGE OF HISTORIC WIN IN LEFT-WING VIENNA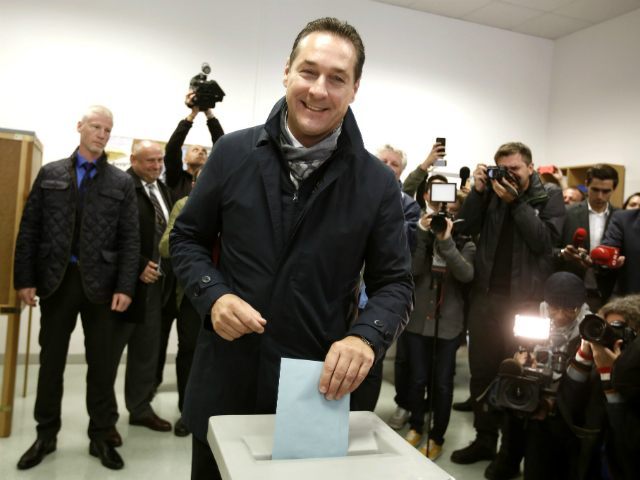 DIETER NAGL/AFP/Getty Images
The anti-mass migration Austrian Freedom Party (FPO) could be on the verge of winning local elections in Vienna, a city that has voted socialist for 70 years.
Amid growing concern over the migrant crisis, Viennese voters are turning to the FPO in record numbers, and party is now just one point behind the city's governing socialists – within the margin of error.
Party leader Heinz-Christian Strache told a large rally outside St Stephen's Cathedral on Thursday: "Let's roll up our sleeves and do this, out of love for our home town, out of love for the people of this city! We will succeed, I can feel it."
Five years ago, the FPO finished more than 18 points behind the governing socialists, but now they are statistically even, raising the possibility they could even finish first. Even if they do emerge as the largest party, however, the socialists will still likely form a coalition to keep power.
Nevertheless, a strong performance by the FPO would send shockwaves through Austria's political establishment, with Vienna typically regarded as being so left wing that it has been referred to as the "red city".
It would also mirror results from other recent elections, including the Upper Austria regional election two weeks ago, where the party doubled its vote and won 18 seats in the region's parliament. Strache said he was "overwhelmed" by that "amazing" result.
One Viennese supporter told The Local she had not been able to find a "real job" for the past four years. She explained why she was voting for Strache: "This time we stand a chance of being heard. People realise that the real defender of workers' rights is him."
More here. H/T: Buck