Islam 101 = Jew hating Muslims, SO there's reason to be scared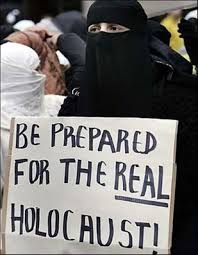 The irony of Germans murdering +6 million Jews during WWII, then apologizing for it and insisting on Never Again as their motto in fighting against Jew hatred, import hundreds of thousands of Jew hating Muslims.
German, Austrian Jews worried about anti-Semitism and extreme ideologies from refugees
Germany will also likely absorb a number of Palestinians as part of its relaxed immigration policies.
Oskar Deutsch, head of Austria's Jewish community, issued a warning in a column last week in the daily Kurier, "The hundreds of thousands of refugees from Syria or Afghanistan who are coming to Europe were exposed while growing up to decades of anti-Semitism. Jew-hatred was learned and promoted in schools, newspapers and social networks. Terrorism against Israeli was celebrated – such as Islamic attacks on Jewish schools, synagogues and Jewish museums in the West."
Deutsch further warned of Islamic State fighters disguised as refugees. His concern is grounded in European reality; Islamic State and Jihadi-affiliated combatants have attacked and murdered several European Jews since 2014. For example, the French-Algerian Mehdi Nemmouche, who murdered three people at the Brussels Jewish museum, was a trained Islamic State terrorist.
"Latent anti-Semitism among the approximate 20 million Muslims can transform into violence, as we have unfortunately experienced too often in the past years," said Deutsch.
In a column last week entitled: "How much anti-Semitism are we actually importing?" Christian Ortner, a popular Vienna columnist, praised Deutsch for his intellectual honesty, and warned that refugees are streaming into the heart of Europe with "a highly likely hefty dose of anti-Semitism, hatred of gays and misogyny."