Race baiting has always been empty in the facts department.
The whole violent escapade has been orchestrated by marxist anarchist miscreants.
BALTIMORE RIOTS EXPLODE LEFTIST RACE MYTHS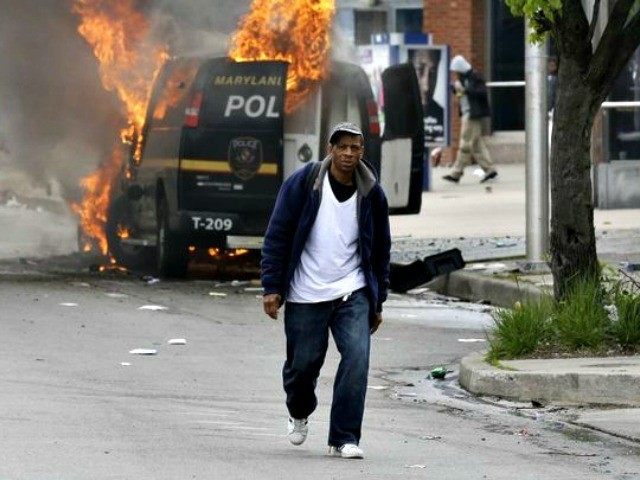 AP Photo
As rioters rushed through the streets of Baltimore, torching police vehicles, looting local stores, and attacking police officers and reporters alike, some intrepid leftists justified the activity.
Marc Lamont Hill stated on MSNBC, "There shouldn't be calm tonight. I think there can be resistance to oppression, and when resistance occurs, you can't circumscribe resistance." He added that the riots should be called "uprisings. The city is not burning because of those protesters. The city is burning because the police killed Freddie Gray." Sally Kohn of CNN tweeted, "Looting is a real shame. But FAR MORE shameful is pattern of police violence against black community! Perspective, people. #BaltimoreRising."
Baltimore's riots have prompted a state of emergency in the city, as well as the calling of the National Guard. But the riots should also demonstrate conclusively that leftist myths about what drives race riots are just that: myths. It turns out that all the excuses given for the riots in Ferguson simply do not apply to the situation in Baltimore.
The "White Police" Myth. As rioters tore up Ferguson last year in the aftermath of the justifiable shooting of Michael Brown by Officer Darren Wilson, media members rushed to explain that the disproportionate whiteness of the police force was to blame. Media outletafter media outlet after media outlet after media outlet blamed the unrest on the failure of the police department to reflect the community. But as of 2010, "Half of the sworn command staff are minorities," according to the Baltimore Sun. And in Baltimore County, 55 percent of new applicants to the police department are minority, a number the police department has been attempting to boost. Racially reflecting the community, in other words, doesn't seem to be helping.