Making an offer Europe can't refuse.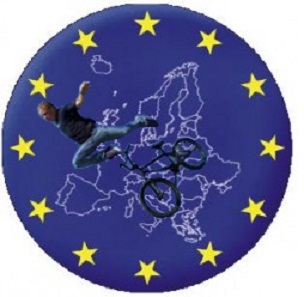 But wait, they're pretty much doing that already! Europe is flooded with illegals and asylum seekers who first reached the shores of Greece, but this definitely ups the ante. "Continue funding our bloated public sector or pay an even higher consequence."
Greece's defence minister threatens to send migrants including jihadists to Western Europe
Panos Kammenos, Greece's defence minister, threatens to open country's borders to refugees – including potential members of Islamic State of Iraq and the Levant (Isil) – unless Athens receives debt crisis support.
Photo: Louisa Gouliamaki/AFP/Getty Images
Greece will unleash a "wave of millions of economic migrants" and jihadists on Europe unless the eurozone backs down on austerity demands, the country's defence and foreign ministers have threatened.
The threat comes as Greece struggles to convince the eurozone and International Monetery Fund to continue payments on a £172billion bailout of Greek finances.
Without the funding, Greece will go bust later this month forcing the recession-ravaged and highly indebted country out of the EU's single currency.
Greece's border with Turkey is the EU's frontline against illegal immigration and European measures to stop extremists travelling to and from Islamic State of Iraq and the Levant (Isil) bases in Syria and Iraq.
Panos Kammenos, the Greek defence minister, warned that if the eurozone allowed Greece to go bust it would give EU travel papers to illegal immigrants crossing its borders or to the 10,000 currently held in detention centres.
"If they deal a blow to Greece, then they should know the the migrants will get papers to go to Berlin," he said.
"If Europe leaves us in the crisis, we will flood it with migrants, and it will be even worse for Berlin if in that wave of millions of economic migrants there will be some jihadists of the Islamic State too."
Mr Kammenos, who is the leader of the Right-wing Independent Greeks party which is in coalition with Greece's ruling far-Left Syriza government, said that the EU's passport free "Schengen" travel zone left the eurozone vulnerable.
"If they strike us, we will strike them. We will give to migrants from everywhere the documents they need to travel in the Schengen area, so that the human wave could go straight to Berlin," he said.