Last week in a seminar at the University of Helsinki, Finnish Institute For International Affairs UPI "expert", Wolfgang Mühlberger, stated that the Palestinian Arabs demand for repatriation of +5 million Arabs to Israel "was just a negotiations ploy".
But any expert on the conflict, worth his/her salt, will realize that, since the Arabs' war against Israel is not just about real estate, but about destruction of a non-Muslim entity -in the same vein as the Muslim destruction of the Christian Lebanese state- the dream of filling Israel up with millions of Muslims is not a ploy, it's a goal.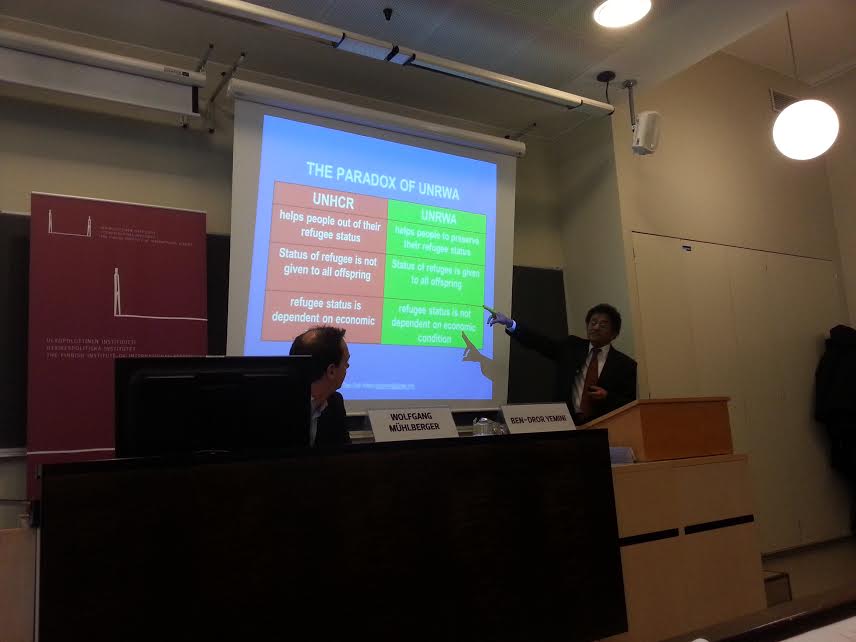 NOTE: In reality, there are less than 200 000 real Arab refugees left in the world today. Refugee status cannot be handed down from parent to child, expect in the Orwellian world of the UN run UNRWA.
Abbas: There Are 6 Million 'Palestinian Refugees' – Including Me
In an interview with an Egyptian newspaper, PA Chairman reiterates his support for "the right of return", rejects recognition of Israel. 
First Publish: 12/8/2014, 5:15 AM
PA Chairman Mahmoud Abbas
Reuters
Palestinian Authority (PA) Chairman Mahmoud Abbas, who is often touted by the West as a "peace partner" of Israel's, recently declared that there are six million "Palestinian refugees", and that he is one of them.
Abbas's comments were made in an interview with the Egyptian dailyAkhbar Al-Yawm, published last week and translated by the Middle East Media Research Institute (MEMRI).
In the interview, Abbas reiterated that he did not recognize Israel as a Jewish state, because this contradicted the Palestinian interests by "harming Israeli Arabs and preventing the return of the Palestinianrefugees." He said that there were six million
"Working with Israel is very difficult, if not impossible. We are conducting mutual relations with people who don't believe in peace. You ask for peace, and they do not want it…," he charged in the interview.
"[Prime Minister Binyamin] Netanyahu said to me: 'I want [Israel to be responsible for] security on the Jordanian border for 40 years.' I pretended to have misheard him, and asked: 'How many?!' He said: '40 years'. I bid him farewell and said, 'Let's shake hands [in farewell].' I left his home and said to him, 'This is occupation.' I haven't seen him since…," Abbas continued.
"In principle, I do not oppose 1:1 land swaps. Take territory of known value, and give territory of the same value," said the PA Chairman, who placed "a basic condition for land swaps – Israel must recognize the June 4, 1967 border at a 1:1 ratio. For example, it is inappropriate for them to receive land in Jerusalem and give me [land] in the Negev [in exchange]."
"Netanyahu once told me that it was an 'idea from hell,' from his perspective, for him to give me the Triangle (the area of east-central Israel, including the cities of Tayibe and Tira -ed.) and everything in it," said Abbas. "[The Triangle] was occupied in 1949 and at that time it had 38,000 residents. Today, it probably has about 400,000 residents. I said: 'I will not take anyone. Forget it, because honestly, I will not allow, or force, any Arab to relinquish his Israeli citizenship.' You might be surprised, but this is important. As far as I'm concerned, this is sacred."