The Left has a lot to answer for, they've encouraged this behavior ever since they cast Israel into role of the poisoner of international wells.
H/T: Adam Levick
Pro-Israel Students Called 'Kike,' 'Dirty Jew' at University of Michigan
University of Michigan spokesman: Death threats to pro-Israel students just 'activism'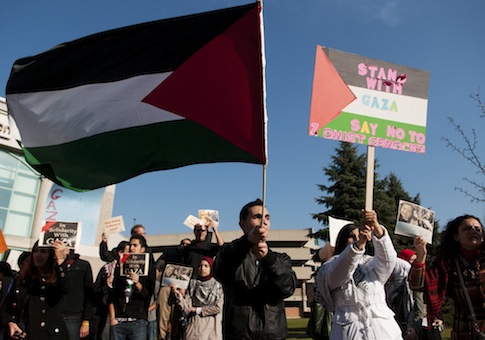 An anti-Israel rally at the University of Michigan in 2012 / AP
BY: Adam Kredo
The University of Michigan would not explain how it is responding to death threats and racial epithets that were reportedly issued by pro-Palestinian activists at students who oppose a resolution to divest from Israel.
University of Michigan police were first contacted last week after two pro-Palestinian activists shouted "threats of violence" at a student who refused to support their boycott initiative during a "sit-in" at the student government's headquarters.
The Washington Free Beacon has further learned that the pro-Israel student received death threats and that others have allegedly been called "kikes" and "dirty Jews" by backers of the virulently anti-Israel Boycott, Divestment, and Sanctions (BDS) movement, which aims to delegitimize the Jewish state through economic means.