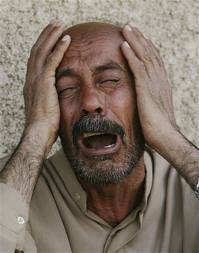 Special Report: Egyptian militants outwit army in Sinai battlefield
AL-LAFITAAT, Egypt (Reuters) – Egypt's army says it is crushing Islamist militants in the Sinai Peninsula, but in the region's villages and towns a victory for the state feels a long way off.
In a rare visit to eight villages in Northern Sinai last week, a Reuters reporter saw widespread destruction caused by army operations, but also found evidence that a few hundred militants are successfully playing a cat-and-mouse game with the Arab world's biggest army and are nowhere near defeat. It is increasingly difficult for foreign correspondents to openly enter conflict zones in the Sinai.
Residents say the militants – a mix of Egyptian Islamists, foreign fighters and disgruntled youth – have seized control of about a third of the villages in the region and are now taking their fight closer to Cairo.
"The army is in control of the main roads but is unable to enter many villages. It can only attack them by helicopter," said Mustafa Abu Salman, who lives near al-Bars village.
"Even when the army's armored personnel vehicles enter villages they fail to arrest militants who have better knowledge of the place, which the military completely lacks."
Senior Foreign Fighter Killed in Syria
BEIRUT March 14, 2014 (AP)
By BASSEM MROUE Associated Press
Activists say that the Kuwaiti commander of an al-Qaida-linked group was killed while fighting government troops and Hezbollah fighters inside Syria.
The Britain-based Syrian Observatory for Human Rights says Abu Azzam al-Kuwaiti, a leader of the Nusra Front, was killed late Friday in fighting around the western town of Yabroud.
Amer al-Qalamouni, an activist in the area, and the Observatory said Saturday al-Kuwaiti was a key mediator for the release of a dozen nuns held by rebels earlier this week.
His death came as Syrian forces and Hezbollah fighters advanced in Yabroud amid heavy fighting.
Militants attack Iraq anti-Qaeda leader, kill four
March 16, 2014 01:52 PM
People inspect the aftermath of a car bomb explosion at a commercial street in al-Ameen district in southeastern Baghdad, Iraq, Sunday, March 16, 2014. (AP Photo/Khalid Mohammed) SAMARRA, Iraq: Heavily-armed militants attacked the home of an anti-Qaeda militiaman north of Baghdad Sunday, killing and decapitating his wife and two sons and killing another person in a brutal pre-dawn assault.
The militia leader, Abu Salim, was not in the house at the time of the attack, which involved more than a dozen vehicles and fighters armed with heavy machine guns and other weapons and also left two of his young sons wounded.
Fighters attacked the militia leader's house in Jilam, a suburb of the predominantly Sunni city of Samarra, at around midnight on Saturday, and killed Abu Salim's wife, two sons and another woman, a police colonel and another officer said.
They then decapitated his wife and two sons, and set off explosives around the house, injuring two other sons, aged four and five.
19 people killed in a string of car bombs across Iraq
Published March 16th, 2014 – 09:25 GMT via SyndiGate.info
Al Qaeda is responsible for numerous violent attacks inside Iraq. (AFP/File)
At least 19 people have been killed and dozens injured in a string of bomb explosions across the Iraqi capital Baghdad after days of relative calm.
A car bomb detonated in a commercial street in Baghdad's southeastern al-Ameen district late on Saturday, killing four people and wounding 13.
Elsewhere, three people were killed and six others wounded when a second car bomb explosion rocked the capital's Qahira neighborhood.
A third car bomb targeted a commercial street in western Baghdad, killing four people and wounding 14 others.
Another a car bomb killed four people and wounded nine in a commercial area in Baghdad's northwestern neighborhood of Shula.