Being circumcised is less traumatic than being born, and I remember neither.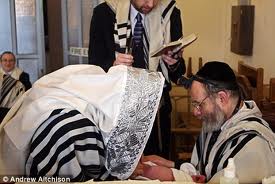 WIESENTHAL CENTER DENOUNCES SCANDINAVIAN MEDICAL GROUPS SEEKING BAN ON JEWISH RITUAL CIRCUMCISION
DISRESPECTING A CORE JEWISH RITE SERVES TO DELEGITIMIZE JEWS AND JUDAISM
The Simon Wiesenthal Center expressed alarm over calls by major medical associations in Sweden and Denmark to ban brit milah– the core Jewish religious practice of ritual circumcision, dating back to the times of the Jewish patriarchs.
"Historically, the Jewish people associated assaults on our core rituals with ancient tyrants and modern dictators like Stalin and Hitler. Now we are confronted with growing calls in European democracies to criminalize Jewish parents' exercising their religious rights and obligations," charged Rabbi Abraham Cooper, associate dean of the Simon Wiesenthal Center, a leading Jewish human rights NGO.
"It is ominous that in 2014, such campaigns are led by medical associations and children's "ombudsmen" in Scandinavia. In fact, there is a growing body of medical literature that circumcision protects males from many diseases. But such evidence has no impact on "ethics" committees and activists who claim their sole concern is to protect children from harm, but whose actions reveal fundamental and willful disrespect of the religious rights of its citizens by attempting to co-opt the responsibilities traditionally carried by parents– not the state–to make decisions on behalf of the welfare of their children," Cooper added.
"Further, such contempt for the rights of Jews also serves to further delegitimize Jews and Judaism in the eyes of their fellow citizens."
"The Simon Wiesenthal Center will continue to press the political and medical leadership in all democracies to respect and protect the rights of its Jewish citizens to exercise their religious freedoms," Cooper concluded.
Rabbi Cooper was involved with the German authorities in overturning efforts to criminalize brit milah in 2012 and is pressing Norwegian leaders to drop their 80-plus year ban on Jewish ritual slaughter of animals.