So this is why many Muslim men stay away from helping females, who are not their relatives, in times of trouble.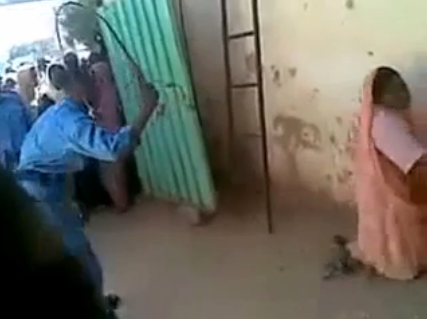 Shocking video shows moment Sudanese woman was flogged in the street… because she got into a car with man who wasn't a relative
Upsetting video shows the Sudanese woman cower and call out in pain
A police officer meted out the punishment under strict 'public order' law
The video was sent anonymously to a journalist

By SAM WEBB
PUBLISHED: 20:29 GMT, 3 October 2013 | UPDATED: 20:51 GMT, 3 October 2013
This horrific video shows a police officer flogging a cowering woman in the street as a crowd watches without protesting or intervening.
The crime that prompted this horrendous assault? She had ridden in a car with a man who she wasn't related to, an offense that is prohibited by Sudan's public order law.
The video is believed to have been taken in Khartoum, the capital, and shows the terrified and bewildered woman crying out in pain as lash after vicious lash rains down.