I would have to ask why in the world the same isn't happening in Finland, with jihadis flowing in and out of the country? Instead, Finnish MP's offer statements of concern for their welfare.
H/T: Dennis Mitzner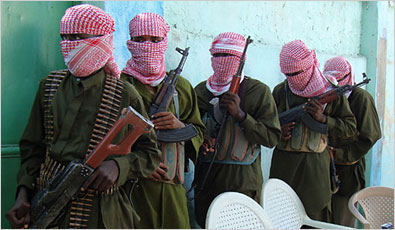 3 charged in NYC with fighting for al-Shabab terrorist group
Published September 23, 2013
| Associated Press
NEW YORK –  Three men facing federal terrorism charges in New York City have strong ties to the same extremist Islamic group that's claimed responsibility for the deadly attack on an upscale Kenyan shopping mall, U.S. authorities say.
Prosecutors in Brooklyn describe the defendants — Ali Yasin Ahmed, Madhi Hashi and Mohamed Yusuf — as "dangerous and influential" members of al-Shabab who were part of an elite unit of suicide bombers. They were captured in Africa last year while traveling to Yemen to team up with the Al Qaeda offshoot there.
The three had links to Al Qaeda operatives in East Africa "who sought to carry out attacks against the United States and Western interests in that region," prosecutors wrote in a letter filed on Sept. 18, three days before rampaging gunmen killed dozens in an attack on the Nairobi mall.
The men are also accused of having "substantial knowledge regarding an al-Shabab research and development department that was developing chemical weapons for use."
Shortly after the FBI took custody of the men in November, they pleaded not guilty in a sealed proceeding in federal court in Brooklyn to providing material support to al-Shabab. The case has since been unsealed and Ahmed and Hashi were to appear Monday in court for a status conference.