It was last night, I'll update as soon as I get word on how it all went, thanks to Andy for the heads up on this important story.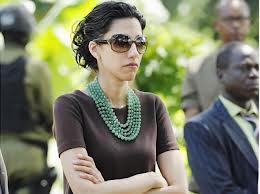 Huma Abedin: Tonight (8/2/13) on Fox's "The Five" Please Discuss/"Query" Her 12-Year Editorial Board Stint on Sharia Supremacist Journal
August 2nd, 2013 by Andrew Bostom |
I just received this tweet from the forthright and thoughtful Andrea Tantaros:
Tonight on @FNTheFive – it's Facebook Friday! We're taking your questions. Fire away! Ask anything!
Well here goes: Given that Huma Abedin spent 12 years (1996-2008) on the editorial board of her parents' Muslim Brotherhood/Wahhabist front pseudo-academic journal, The Institute of Muslim Minority Affairs Journal/Journal of Muslim Minority Affairs, shouldn't the media be asking if she shares ANY of the views consistently espoused by this mouthpiece for Sharia supremacism, such as?:
"Sharia penal code is best…where Sharia is not operative [people] may resort to 'jungle justice'" //bit.ly/13qT6XF