Yes folks, we are engaged in a world wide war with Islam, whether you want to admit it or not.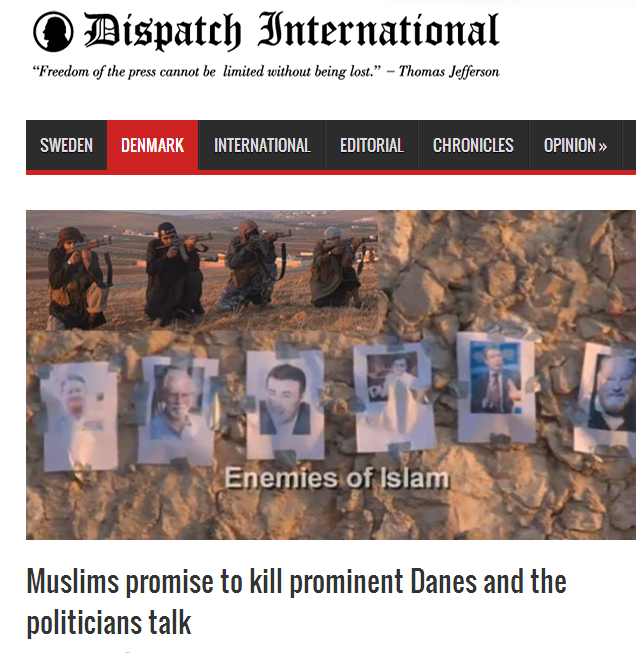 Av:Ingrid Carlqvist 27 August, 2013
Legal affairs spokesman for the Social Democratic Party, Ole Hækkerup, wants to "look into all possibilities" of denying entry to Denmark for people who have participated in holy war in Syria.
He said this a couple of days before August 26, when a propaganda video showing Muslims firing their weapons at pictures of prominent Danes was posted on YouTube. The video, which appears to have been filmed in Syria, was later removed from YouTube because it was deemed to advocate hate crimes but is available here.
The video features one Abu Khattab, who used to live in the Copenhagen district of Brønshøj and is known as belonging to extremist Muslim circles. He is a prominent member of the Salafi movement "Call to Islam".
In a mixture of broken Danish and Arabic, Abu Khattab encourages his "dear brothers" to take aim at "Muslim apostates and infidels who have attacked Islam".
Following his announcement, he and three other holy warriors fire their automatic weapon at pictures of six Danes.
The "apostates and infidels" are:
Anders Fogh Rasmussen, Secretary General of NATO and Danish Prime Minister during the Muhammed crisis in 2005-2006. He refused to bend to Muslim demands that he apologize for the 12 famous cartoons of the prophet published by the daily Jyllands-Posten.
Naser Khader, former MP and a target of Muslim hatred because he has criticized extremist Muslims and given his daughter a Danish name.
Lars Hedegaard, editor of Dispatch International and chairman of the Danish Free Press Society.
Kurt Westergaard, the man who drew the world-famous picture of the prophet with a bomb in his turban.
Morten Storm, former radical Muslim, later apostate and agent for Denmark's intelligence and security service PET.
Ahmed Akkari, former imam and leader of the group of imams that went to the Middle East in order to stir up hatred against Denmark. He has subsequently apologized for his behavior.