Muslims never blame themselves, even when the blade handle of the knife at their throats is being held by someone screeching allhu akbar. Meanwhile the EU frets (and O'Zero) over the MB having been removed from power by the military, and in spite of the gerrymandered vote, their thuggish behavior and the SWC's call for them to be labeled as a hate group.
On June 30, when millions of Egyptians took to the streets to protest against now ousted President Mohamed Morsi, residents of Al Nazla marked Christian homes and shops with red graffiti, vowing to protect Morsi's electoral legitimacy with "blood."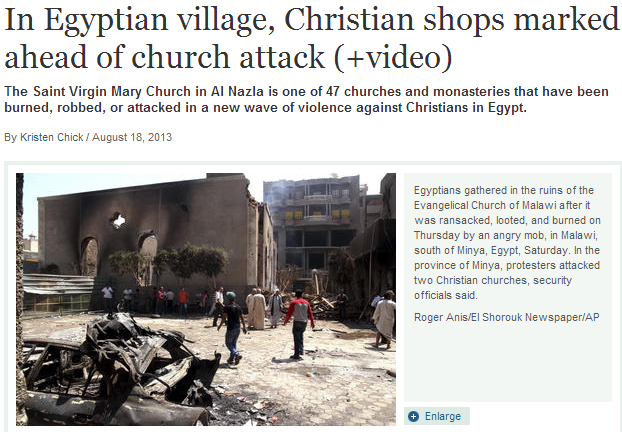 Relations between Christians and Muslims in the village, which had worsened since Morsi's election in 2012, grew even more tense as Islamists spread rumors that it was Christians who were behind the protests against Morsi and his ouster by the military on July 3.
Finally, on the morning of Aug. 14, the tension erupted. In Cairo, the police attacked two protest camps full of Morsi supporters, using live ammunition and killing hundreds. When the news reached Al Nazla, a local mosque broadcast through its loudspeakers that Christians were attacking the protesters, say residents. Hundreds of villagers marched on the Saint Virgin MaryChurch. They broke down the gate and flooded the compound, shouting "Allahu akbar" and "Islam is the solution," according to Christian neighbors.
"First they stole the valuable things, and then they torched the place," says Sami Awad, a church member who lives across the narrow dirt alley from the church. "Whatever they couldn't carry, they burned."