Thankfully we have sound scholars like Efraim Karsh to flesh out the true facts surrounding so much of which is mired in half truths and outright falsehoods. He's hated by many for his efforts, but who cares about they think and say anyways, it's the facts that matter.
Karsh:
Lawrence was an exceptionally gifted charlatan with a keen eye to networking and self-promotion, who successfully cast his spell on far more senior and accomplished contemporaries, such as Allenby and Winston Churchill, who in his capacity as colonial secretary put the final touches to the post-Ottoman state system. As Lawrence admitted, tongue in cheek, in a rare moment of candor in "Seven Pillars": "My proper share was a minor one, but because of a fluent pen, a free speech, and a certain adroitness of brain, I took upon myself, as I describe it, a mock primacy."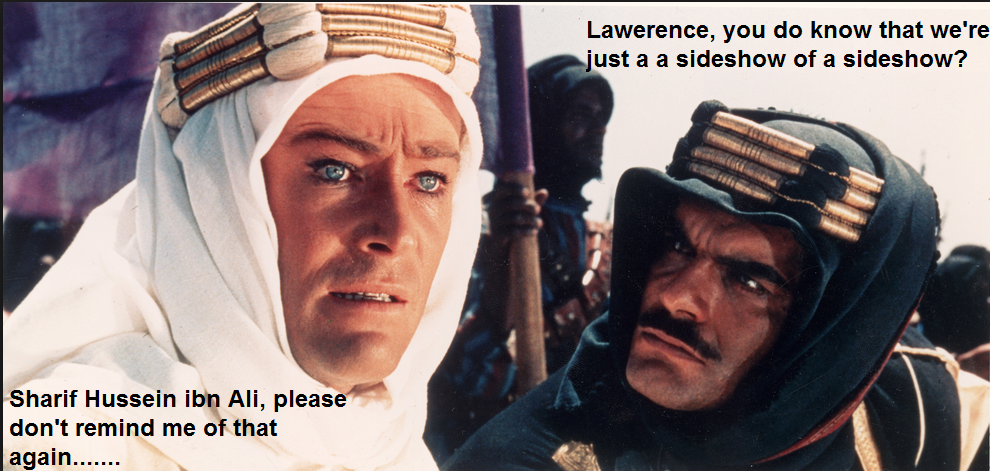 The modern Middle East was born when the European powers exploited the declining Ottoman Empire's entry into World War I to gobble up its lands. They did so by duping naive Arab nationalists to rise against their Ottoman suzerain and then cheated the Arabs of the fruits of their uprising.
So goes the popular narrative about the origins of the region's troubles. It's an emotionally gripping tale, but it's also the inverse of truth. It wasn't British officials but a Meccan potentate, Sharif Hussein ibn Ali of the Hashemite family, who in the summer of 1915 hatched the idea of overthrowing the Ottoman Empire. Impressed by Hussein's promises to raise the Ottomans' Arab subjects in revolt, Sir Arthur Henry McMahon, the British high commissioner in Egypt, tentatively accepted Hussein's vision of an Arab successor empire and facilitated the revolt that began in June 1916.
Hussein never came close to fulfilling his end of the bargain. Most of the Arabic-speaking population remained loyal to the Turks until the bitter end, viewing the Hashemite insurrection with disdain. Even in his hometown of Mecca the sharif didn't command absolute loyalty. Had he not been armed and fed by Britain (and, to a lesser extent, France) and provided with troops, military guidance and lavish shipments of gold to buy Bedouin loyalty, Hussein would have never been able to launch his uprising, let alone sustain it.
This act of insubordination in a secondary theater of the Great War played a negligible part in the fall of the Ottoman Empire. Yet it was instantly immortalized as the "Great Arab Revolt," winning the Hashemites territories several times the size of the British Isles after the war: The emirate of Transjordan (later to be known as the Kingdom of Jordan) was established in 1921 to satisfy the ambitions of Hussein's second son, Abdullah, while in the same year the modern state of Iraq was created at the instigation of Abdullah's younger brother Faisal. Hussein himself became king of the Hijaz, Islam's birthplace, only to be evicted a few years later by Abdul Aziz ibn Saud, the founding father of Saudi Arabia.
It was a young British participant, Thomas Edward Lawrence (1888-1935), who single-handedly produced this extraordinary feat of historical deception. Though aware that the revolt was but "a sideshow of a sideshow," as he wrote in his cleverly titled 1922 memoir, "Seven Pillars of Wisdom: A Triumph," Lawrence had no qualms about mythologizing it in grand style. In the process he catapulted himself to fame as "Lawrence of Arabia" and became perhaps the first mega-celebrity of modern times. His legend was amplified by generations of acolytes, including Lowell Thomas, whose "The Last Crusade" lectures about Lawrence played to full houses in New York and London in 1919; the British director David Lean, who gave us the Oscar-winning 1962 epic "Lawrence of Arabia"; and a lengthy string of fawning biographers.