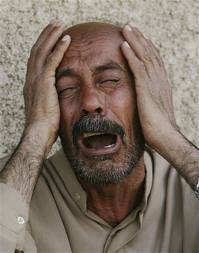 Iraq: 1,057 Killed in July, U.N. Says
NYT: The United Nations said Thursday that July was Iraq's deadliest month in more than five years, describing a series of bombings and shootings as an epidemic of sectarian-tinged violence that had killed 1,057 Iraqis and wounded 2,326. The organization's acting special representative for Iraq, Gyorgy Busztin, said in a statement that the severity of the mayhem was the worst since 2008, when Iraq verged on civil war after the American-led invasion that toppled Saddam Hussein and his Sunni minority from power. Many of the attacks in July were aimed at members of the Shiite majority that has dominated Iraq's politics since the withdrawal of the American military at the end of 2011.
Syria conflict: Homs arms-depot blast 'kills dozens'
BBC: At least 40 people have been killed in a rocket attack on an arms dump in Syria, the UK-based group the Syrian Observatory for Human Rights has said.
Unverified footage showed a huge fireball shooting into the sky over Homs city.
The rebel Free Syrian Army said it carried out the attack, which struck in a government-controlled area.
President Bashar al-Assad said earlier he was "sure of victory" in the civil conflict that broke out in early 2011.
"If we in Syria were not sure of victory, we would not have had the will to… persevere in the face of more than two years of aggression," he said.