Just like the purists are in the UK and throughout the West.
The reason for this is that there is no such thing as "moderate Islam", there are moderate Muslims, yes, the type that choose to skip over all of the horror verses in the koran, and settle  on the more peaceful ones, the portions of verses that originate during the supposed time of Mohamed's stay in Yathrib, Mecca, then on to Yathrib, (Medina) a Jewish town before the Muslims came back and murdered them all and Islamized it. (correction, Yathrib is Medina, as pointed out by Jake in the comments.)
There is only a nuance of difference between Salafists and Whabbists which gave birth to the Muslim Brotherhood and al-Qaida. The fundamentalists only have to appeal to the way the koran is written, and the overwhelming unanimity of the four schools of Islamic jurisprudence in order to win the day and turn a mosque, once led by a forward looking Imam, into a mustard hellhole scheming to "fundamentally transform" society.
NOTE: Salafi ideology is just "Islam 101", and the article grossly understates the significance of that.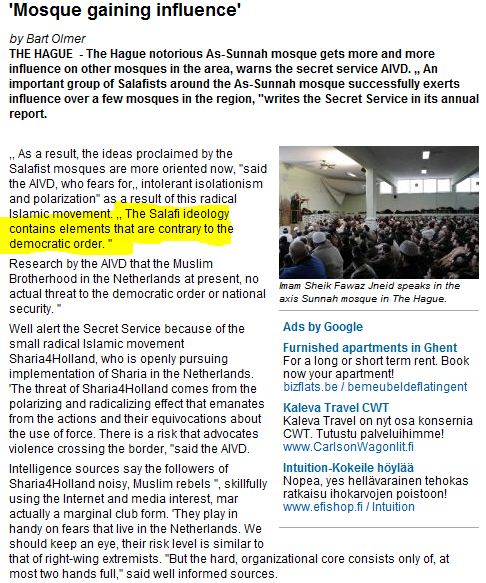 More here.(Dutch)
H/T: BadNewsFromTheNetherlands: 
Intelligence Service: Salafist Mosque Increases Influence
The intelligence service AIVD writes in its annual report that an important group of Salafists connected to the As-Soennah mosque in The Hague has increasing influence on other mosques in the region. These mosques now also promote Salafism. The AIVD says that Salafist ideology contains elements which conflict with the democratic order. The AIVD is afraid of intolerant isolationism and polarization. At present, the group is not a danger to state security.