This is such an outrage.
Who is going to speak for these women if we don't consistently bring this stuff up to the people's attention? Fundamentalist muslim apologists for sharia threaten anyone with the lame brain charge of "islamofauxbia" who dare bring this up, so the politicians turn a blind eye and the Left ensures that it remains that way. Meanwhile, young girls are either raped outside of marriage and forced to marry their rapists, or are forced by their family to marry older men and then legally raped for the rest of their lives. Either way, young girls/young women are being raped, and Islam is covering for their rapists.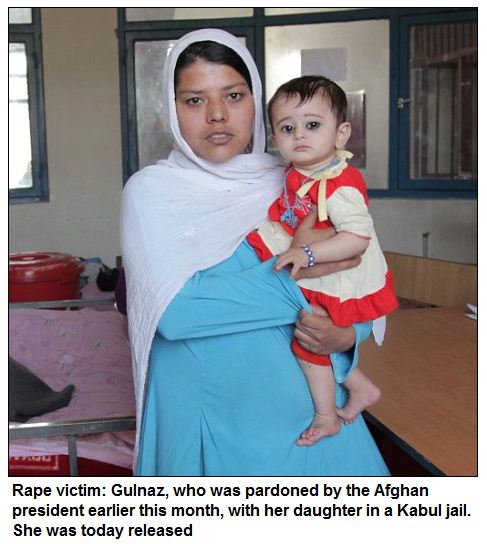 Moroccans demand change to Islamic penal code after girl, 16, kills herself because judge forced her to marry her RAPIST
Online petition after case of teen who swallowed rat poison in protest

Women's rights activist describes horror as 'recurring phenomenon'

'Law protects public morality but not the individual'

By LEE MORAN
PUBLISHED: 13:46 GMT, 14 March 2012 | UPDATED: 18:49 GMT, 14 March 2012
Angry Moroccans are demanding a change to the country's strict Islamic penal code after a 16-year-old girl killed herself after being forced to marry her rapist.
An online petition, a Facebook page and countless tweets expressed horror over the suicide of Amina Filali, who swallowed rat poison on Saturday in protest at her marriage to the man who raped her a year earlier.
Article 475 of the Moroccan penal code allows for the 'kidnapper' of a minor to marry his victim to escape prosecution, and it has been used to justify a traditional practice of making a rapist marry his victim to preserve the honour of the woman's family.
'Amina, 16, was triply violated, by her rapist, by tradition and by Article 475 of the Moroccan law,' tweeted activist Abadila Maaelaynine.
Abdelaziz Nouaydi, who runs the Adala Assocation for legal reform, said a judge can recommend marriage only in the case of agreement by the victim and both families.
'It is not something that happens a great deal – it is very rare,' he said, but admitted that the family of the victim sometimes agrees out of fear that she won't be able to find a husband if it is known she was raped.
The marriage is then pushed on the victim by the families to avoid scandal, said Fouzia Assouli, president of Democratic League for Women's Rights.
'It is unfortunately a recurring phenomenon,' she said.'We have been asking for years for the cancellation of Article 475 of the penal code which allows the rapist to escape justice.'