It's like clockwork
Friday prayers = Friday riots. A few days ago the Arabs were throwing rocks at Christian pilgrims in the same area. Video courtesy of The Blaze: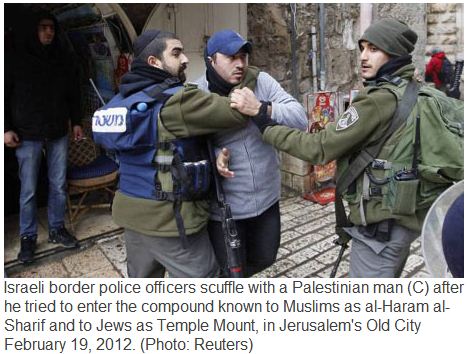 Several police hurt by rioters at Temple Mount
By JPOST.COM STAFF02/24/2012 13:39
Following Friday prayers, hundreds of Palestinians throw rocks at police who disperse rioters with stun grenades, including some who retreated into Aqsa Mosque; 11 police hurt, 4 rioters arrested.
Security forces dispersed hundreds of Muslim worshipers rioting and throwing stones at the Temple Mount following Friday prayers. Eleven police officers injured by stones were treated on the scene and four rioters were detained, with additional arrests expected.
Police managed to disperse all of the rioters with stun grenades, including several youths who took refuge in the Aqsa Mosque.
Jerusalem Police had warned of unrest at the Temple Mount earlier in the week as right-wing activists said they would ascend to the holy site and Palestinian activists responded by saying they would come to "protect" the area.
Overnight Monday, police raided an apartment in Jerusalem's Ramot neighborhood and found extremist right-wing documents related to the Temple Mount. Police arrested one activist and took him for investigation.