Just like the Taliban in Afghanistan did with the giant statues of Buddha, NOW YOU SEE IT, NOW YOU DON'T.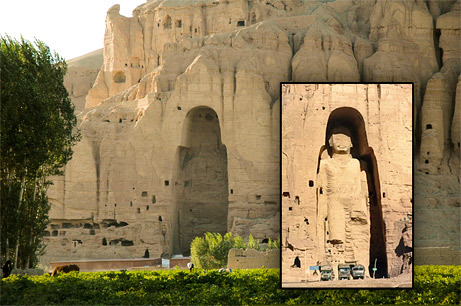 Trouble in paradise: Maldives and Islamic extremism
By Amal Jayasinghe (AFP) – 13 hours ago
MALE — At the Maldives' National Museum, smashed Buddhist statues are testament to the rise of Islamic extremism and Taliban-style intolerance in a country famous as a laid-back holiday destination.
On Tuesday, as protesters backed by mutinous police toppled president Mohamed Nasheed, a handful of men stormed the Chinese-built museum and destroyed its display of priceless artefacts from the nation's pre-Islamic era.
"They have effectively erased all evidence of our Buddhist past," a senior museum official told AFP at the now shuttered building in the capital Male, asking not to be named out of fear for his own safety.
"We lost all our 12th century statues. They were made of coral stone and limestone. They are very brittle and there is no way we can restore them," he explained.
"I wept when I heard that the entire display had gone. We are good Muslims and we treated these statues only as part of our heritage. It is not against Islam to display these exhibits," he said.