The founders and framers of the US Constitution and the Republic should be spinning in their graves over the mindset on display in this situation. Well perhaps they have been spinning in their graves ever since 1947, when the Supreme Court ruled in the Everson v. Board of Education case. A Supreme Court Justice at the time, Hugo Black, (an anti-Catholic KKK'er) introduced a wrong interpretation of the framers' original intention in his  brief about the case, falsely saying that a "separation of church and state existed" in the constitution.
Though the ruling went in favor of the plaintiff, it set in stone the misguided notion that "all religious expression, whatsoever, was expressly forbidden in public institutions by the framers of the constitution". Republican Tea Party candidate (running for the state senate seat in Delaware) Christine O'Donnell, was widely ridiculed for her statement during a debate that there isn't a "separation of church and state" clause written in the constitution.
She was absolutely correct to state that it's not there, because it isn't, what does however exist, are the following words in the 1st Amendment:
Congress shall make no law respecting an establishment of religion, or prohibiting the free exercise thereof,"
Only until the mid 1940's, due to political machinations of a supreme court judge, has that sentence been turned on its ear to mean something completely opposite to the framers' original intentions, that being, to erase all expression of faith in any of its public institutions throughout the US. As I have written about this earlier, the original 13 colonies, prior to becoming member states of the union, had publicly funded religions of their own (through publicly approved taxation), and held onto that practice as they became official member states of the United States of America.
It was their full intention all along to secure this right as sovereign states within the union, ensuring that the federal government in Washington would never impose a federal state religion upon its member states, thereby superseding their own state religions. They never meant for the total eradication of (member) state religion from public life. That sentiment was seen in their invoking of the name of the creator in public addresses and in official public activities, including in symbols and in other state regalia.
What's happening in New England, and throughout the entire nation is a bastardization of the framers' original intentions, thereby violating the people's rights to freedom of religion, which means in public settings as well. The ignoramus that O'Donnell was debating (Democrat Chris Coons), the ignorant moderators, the ignorant law students in the audience (chuckling), as well as this ignorant journalist writing for The Guardian, are completely wrong, and regardless of the number who back their thinking, does not negate Christine O'Donnell's correct understanding of the freedom of religion protected in the US constitution, no matter how many people get it wrong. More here on it.
Tyranny is tyranny no matter how you slice it, whether it be by a majority, or by the hand of a lone atheist teenager and her ACLU supporters. KGS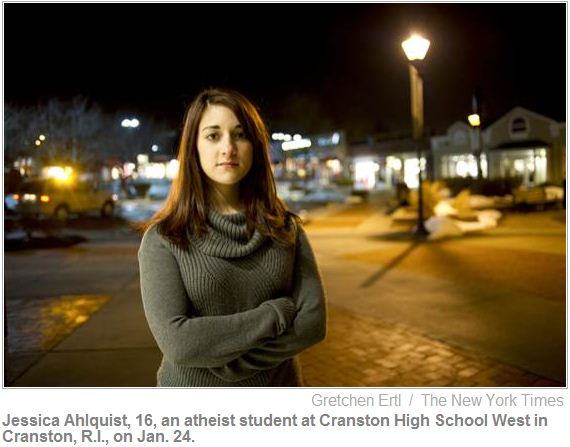 Atheist teen forces school to remove prayer from wall after 49 years
CRANSTON, R.I. — She is 16, the daughter of a firefighter and a nurse, a self-proclaimed nerd who loves Harry Potter and Facebook. But Jessica Ahlquist is also an outspoken atheist who has incensed this heavily Roman Catholic city with a successful lawsuit to get a prayer removed from the wall of her high school auditorium, where it has hung for 49 years.
A federal judge ruled this month that the prayer's presence at Cranston High School West was unconstitutional, concluding that it violated the principle of government neutrality in religion.