New seat, same ideology
Come on, seriously, only a moron, or someone completely ignorant of the group and their ideology, could  come to the conclusion that they could be moderated by the democratic system. Here's the Hamas, a long time MB affiliate, the Gaza branch of the ME, now seeking higher office within the parent organization.
The airheads in the West who promote 'dialogue with Hamas, are the same ones now salivating to entertain dialogue with the Muslim Brotherhood led Egyptian government, and by default, the international Muslim Brotherhood organization. Who knows, Western leaders will be sitting down with Hamas' Khaled Meshaal soon enough. What a sick world we live in.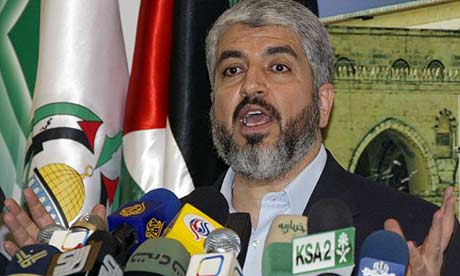 Source: Hamas' Meshaal Sets Sights on Brotherhood Post
by IPT News  •  Jan 27, 2012 at 6:35 pm
Hamas' out-going politburo chairman is leaving the Palestinian terrorist group to take a "high position in the Muslim Brotherhood movement," a "well-informed source in Hamas" told the Nazareth-based Arabic-language Al-Sinnara last week.
The move would see Khaled Meshaal—the longtime Damascus-based leader of Hamas—transition to a new, more international role, as head of the "Supreme Council of the [Brotherhood] movement." The Council is said to be "responsible for political issues," according to the report. It remains to be seen whether the article is referring to the group's Guidance Bureau, which largely deals with the movement's political affairs, or with another body altogether.
If true, the news would help explain why Meshaal has been so adamant about not seeking re-election. Earlier reports noted that the group made an official plea for Meshaal "to reconsider" his stance.
"This is a public matter that the Hamas institutions should decide, and not an individual person," the group said.
Not a day later, an informed Palestinian source told Ynet that Meshaal's request to withdraw from the one-man race was denied by the group's Shura Council, and that he would indeed continue to serve as the politburo chief.
It has been speculated that if Meshaal exits, the post could go to Hamas' Gaza-based Prime Minister, Ismail Haniyeh, or Hamas' original political bureau chief, Mousa Abu Marzook.
H/T: Zip