The judge's first mistake was to even consider the lying biting bastard's testimony.
Take a good look folks, this is the actual cheek of the man bitten by the Muslim Kuwaiti, Mohamed Abdelkarim, who came over to their table, knocked their material and a camera being held to the ground, and assaulted their persons.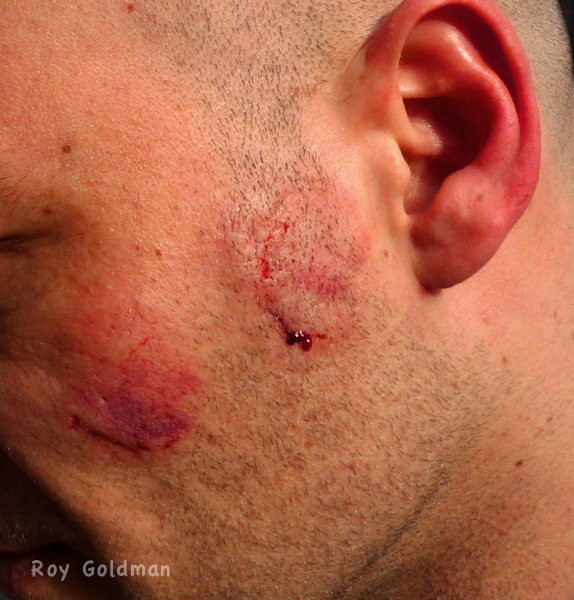 There is no doubt in my mind, from watching hundreds of pro-Israel demonstrations that these good people didn't start a damn thing, the man in question came over to start a row, hurling verbal abuses and kicking stuff over, when he was held to keep him from doing more damage, he bit the man holding him back. KGS
NOTE: The judge should be ashamed of himself, not only did he close his eyes to the truth of the incident, he helped to set up the next violent scenario when this man, or others, become more emboldened to attack pro-Israel supporters.
SOAS 'biter' acquitted of assault
A PhD student who bit a pro-Israel campaigner on the cheek at SOAS Israel Apartheid Week has been acquitted of assault.
Mohamed Abdelkarim was accused of biting Dean Gold on the face during a tussle on March 20 last year, while Mr Gold was filming a man at the event who was making obscene remarks about the Holocaust. After Mr Abdelkarim knocked the camera out of Mr Gold's hand, both accused the other of throwing the first punch.
Mr Abdelkarim said the bite had been in self-defence, as he was immobilised by Mr Gold.
Both were originally charged with assault, but charges against Mr Gold were later dropped.
Three witnesses from the pro-Israeli campaign outside the university gave evidence, as did others attending the event.
District Judge James Henderson said political points of view of the witnesses had affected "what they saw and what how they interpreted it."
But Kuwait-born Mr Abdelkarim, 44, a father-of-two and part time university lecturer, was "consistent and believable", the judge said. He said: "I cannot be sure that Mr Abdelkarim was not acting in self-defence. The prosecution have not achieved that."
A second charge of criminal damage to Mr Gold's flip camera was also dismissed, as Judge Henderson said there was not proof cosmetic damage to the camera was not caused during the 10 months it was in police care.