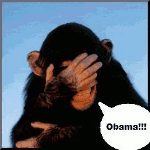 What a smack upside the apologizer-in-chief's head

U.S. drone that crashed in Iran goes miniature
By Thomas Erdbrink
A photo released by Iran's Revolutionary Guard Corps purports to show the RQ-170 drone that was reported crash in December. (Sepahnews via Associated Press)TEHRAN — For the American government, the crash of the RQ-170 drone in Iran was an embarrassment. For the Iranian government, it was a propaganda victory.
And for at least one company, according to state radio, it could be a windfall.
An Iranian firm, seeking to capitalize on the frenzy that followed the crash of the drone — and American calls to have it returned — is now producing miniaturized toy versions of the craft. Most of the toys, which come in several colors and are made of Iranian plastic, have already been snapped up by Iranian government organizations, according to the group that manufactures them.
At least one model — a pink one — has been reserved for President Obama.
"He said he wanted it back, and we will send him one," said Reza Kioumarsi, the head of cultural production at the Ayeh Art group.