Boom.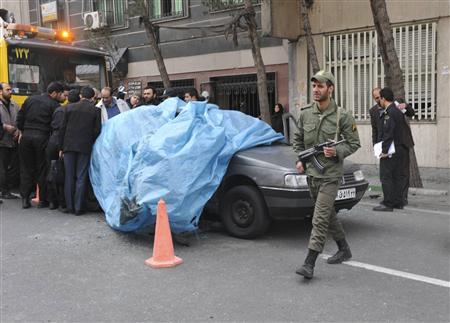 Analysis: Israel uses risky "hits" in deadly shadow war
(AL-Reuters) – If Mossad assassins were behind the killing of an Iranian nuclear scientist Wednesday, it would be the latest chapter in a long history of Israeli covert action against foes best not confronted with full force.
As always, Israeli officials declined any comment on the death of Mostafa Ahmadi-Roshan, who was blown up in his car, while Iran itself immediately pinned the blame on Israel.
Cold-eyed calculus guides what Israeli officials call "precision thwarting," a euphemism that strives to focus blame on those marked for death while conveying reluctance to escalate the shadow war.
Critics condemn all such attacks on moral grounds, and also question the long-term efficiency of targeted killings, but Israeli officials, drawing on years of experience in the murky practice, believe they play a vital role in defending the state.
When it comes to Iran, whose uranium enrichment and ballistic missile projects have suffered a surge of spectacular and often bloody mishaps in recent months, Israel measures the gains in terms of the delays they cause.
"They are not keeping to the schedules they would like to keep to," former Mossad spymaster Meir Dagan said in a recent television interview, smilingly crediting the apparent sabotage spree to "God, who controls everything."
The daylight killings of atomic technicians such as Ahmadi-Roshan — who, like others before him, fell victim to an explosive device attached to his car by a passing motorcyclist — obviously deplete Iran's pool of nuclear experts.
It also provokes panic in surviving colleagues, said an Israel official, generating a phenomenon that Mossad veterans dub "virtual defection."