He might have not worded it like that but that is exactly what he means, it's the only logical conclusion of what would happen if 'J'lem was liberated'. KGS
NOTE: The analysts that refuse to call these key players in Egyptian politics by the right name, fundamentalist Muslim genocidal-homicidal maniacs, should be run out of the profession.
H/T: Challah Hu Akbar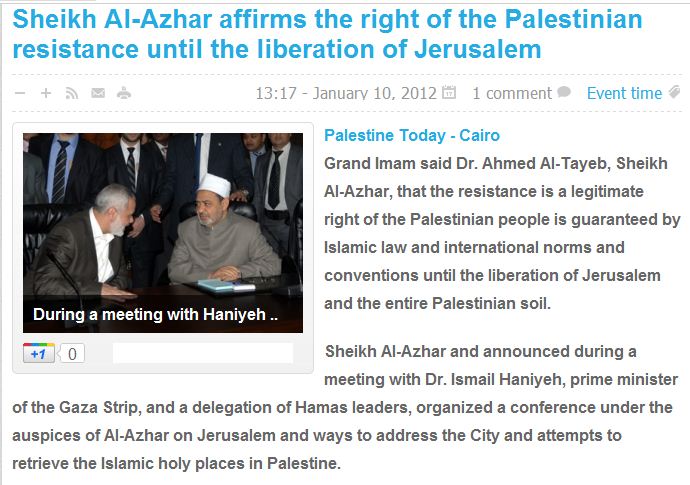 He appealed to Sheikh Al-Azhar all the Palestinian factions continue to unite efforts and the rejection of division and conflict, stressing that the unit is for the Mujahideen to achieve their goals, and that the band shall be deducted from the balance of the Palestinian factions in the face of Israeli aggression.
Also called the Grand Imam of educational curricula to include all Arab countries and Islamic history of Jerusalem and the definition of new generations of the Islamic right in Palestine and the Israeli media revealed allegations that disinterested distorted truths of religion and history.
For his part, praised Ismail Haniyeh, the position of Al-Azhar towards the Palestinian cause, and the role of the Egyptian intelligence service in the success of the prisoner exchange deal.
He also Haniyeh of Hamas on behalf of the Egyptian people for the success of his revolution, which was supportive of the Palestinian issue at various levels, Haniyeh said that the file is the resistance of the constants of the Palestinian people and that no waiver of this option until the liberation of Palestinian soil.