Dear Christians in the West, when was the last time you heard your pastor speak of your co-religionists in Muslim lands being picked off like sheep in a slaughterhouse?
Folks, to clue you in on just how disingenuous the OIC and other individual Muslim leaders are when they express anguish over the "defamation of religions", just remember that they never ever speak about the ethnic/religious cleansing going on in their own Muslim lands. They will never tell you the accurate factual history of how the Levant and Maghreb were Islamized and Arabized, they just point to cartoons being published and cry and moan like little children while they put the blade to the throats of Christians and other religious groups.
Don't be fooled, the OIC's campaign of being against "defamation of religions" is just about protecting Islam from criticism. Remember, it's never defamation when they do it.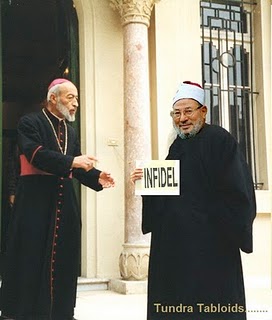 This is part of the story. Please click through here to Raymond Ibrahim's site for the whole article.
Dear Reader:
If the ongoing eradication of Christians under Islam is of concern to you, please consider signing Christian Solidarity International's petition urging President Barack Obama to present during his forthcoming State of the Union Address his "administration's policy to prevent the eradication of the endangered Christian communities and other religious minorities of the Islamic Middle East."
Sincerely –
Raymond Ibrahim
A recent Fox News report tells of how "a rash of attacks on Christian-owned businesses in northern Iraq has raised troubling questions about the future safety of the country's shrinking Christian community, particularly as U.S. forces withdraw completely from the nation they've refereed since 2003."
Iraq's Christians near extinction as the world silently watches. Woman grieves during mass for slain victims of Baghdad's 2010 church attack.
In fact, "questions about the future safety of the country's shrinking Christian community" have been raised ever since the U.S. toppled secular strongman Saddam Hussein, thereby unloosing the forces of jihad previously corked. The report continues:
The attacks, which have received little international attention, raged through northern cities following a sermon last Friday by a local mullah. Video purportedly from the riots posted online shows mobs burning and wrecking businesses, which included liquor stores, hotels and hair salons.
Note the two important facts here that play over and over whenever Christians are persecuted under Islam: 1) Despite their frequency and severity, they "receive little international attention" (indeed, only the most spectacular of terrorist attacks on Christians—such as the 2010 Baghdad church attack which left some 60 dead—ever receive mainstream media attention); and 2) as usual, the attacks followed "a sermon last Friday by a local mullah" (in other words, are Islamic in nature).
As if the situation wasn't bad enough, after pointing out that "Iraqi Christians … are living in fear," U.S. Rep. Frank Wolf said:
"Now with the [U.S.] forces leaving … I think the Iraqi Christians are going to go through a very, very difficult time." … He urged the Obama administration to do more to speak up on the issue. "They know this is a problem. Our government ought to be advocating and ought to be pushing."