FROM THAT HELL HOLE CALLED PAKISTAN
Don't worry kids, they did say that they had your best interests at heart.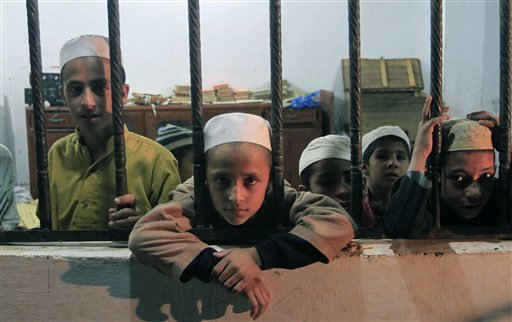 Parents knew brutal truth of Pakistani madrassah dungeon
Parents of the children found abused in a Karachi madrassah have told The Daily Telegraph they approved of the brutal methods being used in the Islamic school's cellars.
By day they were locked in chains. By night, they were shut in a bare room with dirty mattresses on the floor. A watchman patrolled the madrassah so that no-one could escape.
When police raided the Islamic school on the northern outskirts of Pakistan's largest city Karachi last week they made another shocking discovery: an underground dungeon where teenage drug addicts were beaten and abused.
Yet parents of some of the boys have told The Daily Telegraph they knew what was going on in the madrassah cellars – and even approved of the brutal methods they believed were the only way to deal with teenage delinquents.
One claimed to have aided the Madrassah Zakarya's approach. When Umar Khan took his two sons to the single storey, whitewashed school he brought with him two sets of chains and padlocks.
"They are young and so naughty I was worried they would run away. This was to straighten them out for a month," he said.