---
You literally can't make this stuff up…
The incestuous nature of (Finnish) big-league elitism. A woman of Arab extract who checks all the Left's politically correct boxes, gets to cover the Gaza War from the Left's/Arab's perspective for the Helsingin Sanomat. Then Zidan gets hired to the State News Broadcaster YLE, then a brief stint at Finnish Amnesty International,(whose boss made international headlines for libeling Israel as a "scum state", then on to another government-linked job at SUPO, Suojelupoliisi (Security Police).
The Tundra Tabloids made Aishi Zidan infamous during the Gaza War when she let it slip that Hamas was firing rockets into Israel from the vicinity of the Shifa Hospital in Gaza, a war crime (She admitted on FB that she herself was scared of the rocket-fire. Interestingly enough she didn't choose to live in Gaza or Ramallah, but in Israel). When the pro-Israel community to note of it, and used it as proof of Hamas using civilians as human shields, she cried foul and blocked me on Twitter. The Israeli Ministery of Foreign Affairs still has that video of mine detailing what she said in Finnish in her report for YLE News.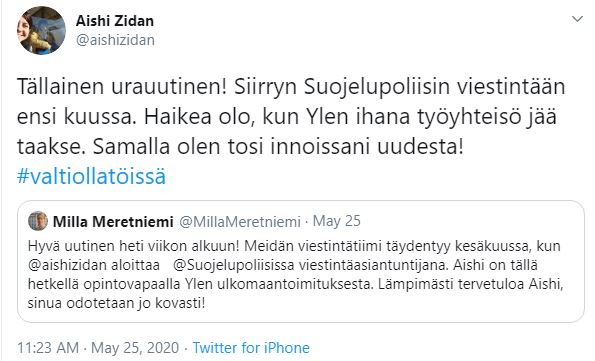 Translation:
This kind of career news! I'm moving on to communications for The Finnish Security Police next month. I feel sad when Yle's wonderful work community is left behind. At the same time, I'm really excited about the new one! #workingforthegovernment !
Milla Meretniemi:
Good news from the beginning of the week! Our communication team will be completed in June when
@aishizidan Starts at the @Suojelupoliisi as a communications specialist. Aishi is currently on study leave for Yle's foreign news. A warm welcome to Aishi, you are already expected!
NOTE: Aishi Zidan also made headlines for her objection to being frisked upon entering the PM of Israel's official office while covering the news for YLE: Apparently #RocketGirl had a bra malfunction which lit off the alarm. Yle tried to spin it as "racial profiling".
Related: //tundratabloids.com/2017/10/31/finland-rocket-girl-aishi-zidan-reveals-cmis-deep-involvement-in-brokering-agreement-between-hamas-and-fatah-in-switzerland/