---
Syksy Räsänen's irrational, ideology (destruction of Israel) drives him to flack for the Islamonazi Hezbollah…
I've been blocked by 'Syksy' Räsänen on Twitter ages ago, so his recent anti-Israel comments escaped me. It doesn't surprise me however that Räsänen has taken to flacking for the Islamonazi Hezbollah. Here he is five years ago at a "Pink-Washing" event that sought to undermine Israel's human rights credentials in regards to its Gay community. In this hour-long video, Räsänen repeats every known anti-Israel propaganda smear/claim you can think of, as well as his invited guests.
What Räsänen didn't know was that there was a well known Israeli Gay-Rights activist in the audience willing to challenge him. Avi Soffer noted that "not once in his entire rant did he mention anything about the responsibility of the Arabs during the decades of the ongoing conflict with Israel." This mirrors the thinking of former Israeli Ambassador to Finland, Avi Granot, who noted back in 2009 (my video) in a comment to Avi Shlaim at Helsinki Univerity, that not once in his half-hour historical review not one mention of any Arab wrongdoing whatsoever."
Avi Soffer in this second clip takes offense over Räsänen's insistence that there is no Jewish character of Israel since "most Jews have an Arab background" (he never once noted that these so-called "Arab Jews" were driven out/expelled from their homes after the creation of the Jewish state of Israel).
Syksy Räsänen has been at the forefront of the anti-Israel movement for well over a decade. He's also on the board of the Finnish chapter of the Israeli Committee Against House Demolitions Finland organization (ICAHD), which indoctrinates mainly Finnish university students with anti-Israel propaganda. So Räsänen's joining the board of Finland's Amnesty International chapter doesn't come as a surprise, since the Finnish AI is still headed by Frank Johansson, who was outed by the Tundra Tabloid website ten years ago for declaring Israel a "scum-state" in a blog at the Finnish tabloid Iltalehti. Only after increased international pressure, did Johansson issue a formal apology.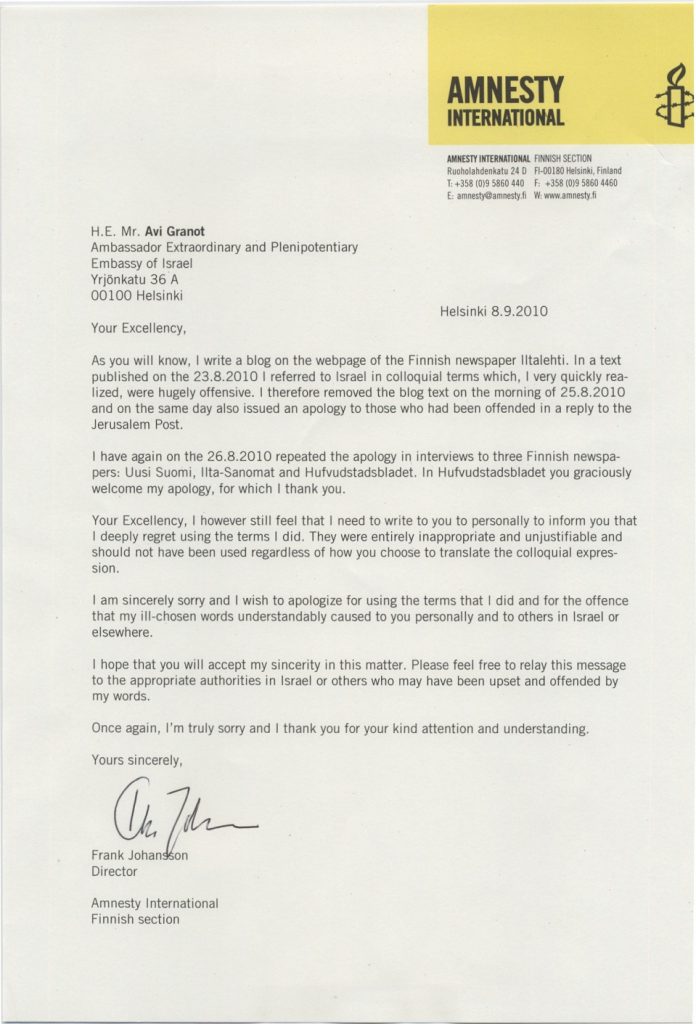 So will the parent organization of AI be demanding Räsänen to apologize as well?
Finnish Amnesty International Board Member Says Israel Worse Than Hezbollah
An Amnesty International board member from Finland was criticized on Monday after denouncing Germany's decision to ban the Lebanese terrorist group Hezbollah.
Syksy Räsänen, a Finnish physicist with a long history of anti-Israel activism — including the publication of a book called Israeli Apartheid — commented, "Germany's ban on Hezbollah is a perfect illustration of how terrorist lists are tools of power politics."
"Hezbollah is banned because it 'calls for the violent elimination of the State of Israel and questions the right of the State of Israel to exist,'" he said. "Replace Israel->Palestine, and this describes most Israeli parties."
"Admittedly, there is the difference that most Israeli parties have been implementing the elimination of Palestine, not just called for it," he asserted.
Räsänen wrote, "Yet Likut [sic], Yesh Atid, Shas, Labour etc. are valued partners for Germany and the EU, instead of being labeled terrorists."