---
The NYT gets it wrong again…
Here she is on Twitter just this last month: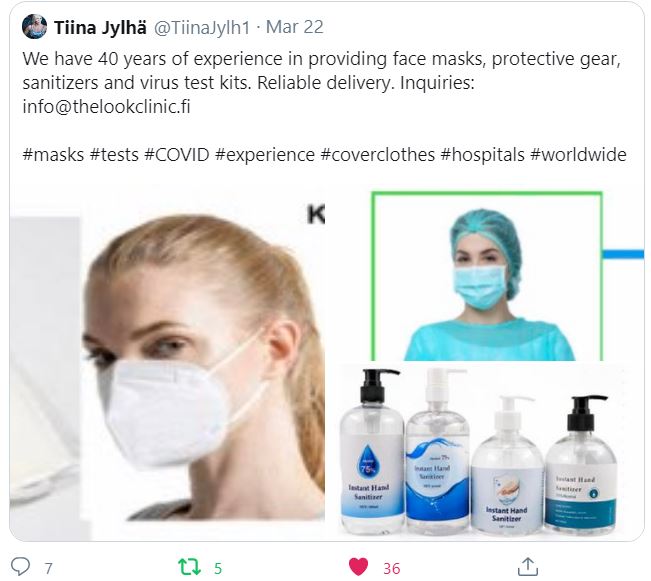 The head of the National Emergency Supply Agency, Tomi Lounenma, recently in the New York Times' article, Finland, 'Prepper Nation of the Nordics,' Isn't Worried About Masks:
Though year after year Finland has ranked high on the list of happiest nations, its location and historical lessons have taught the nation of 5.5 million to prepare for the worst, Tomi Lounema, the chief executive of Finland's National Emergency Supply Agency, said on Saturday.

"It's in the Finnish people's DNA to be prepared,"

Mr. Lounema said, referring to his country's proximity to Russia, its eastern neighbor. (Finland fought off a Soviet invasion in 1939.)

In addition, most of its trade goes through the Baltic Sea. That, Mr. Lounema said, is considered a vulnerability because, unlike Sweden, which has direct access to the North Sea on its west coast, Finland has to rely on the security conditions and the running of maritime traffic in the Baltic.
"If there is some kind of crisis, there might be some disturbance" in the supply chain, he explained.
Pathetic.
Agency boss admits paying out millions of euros without getting hospital-grade PPE
Finland has struggled to source hospital-grade personal protection equipment. 
Finland made two separate deals to source respiratory protectors from an Estonia-based beautician and a payday lender, but neither came through with equipment good enough to use in Finnish hospitals.
Tomi Lounema, the boss of the country's National Emergency Supply Agency, admitted the mistakes at a press conference on Thursday evening.
He said that around five million euros had been paid to Tiina Jylhä, a tabloid celebrity with a plastic surgery business based in Estonia, and Onni Sarmaste, a payday lender with a history of bad debts.
He said that due to the acute shortage of personal protective equipment worldwide, his agency had to move quickly and had been unable to check the backgrounds of the suppliers before signing the contracts and making the payments.
The consignment sent by Sarmaste was tested on Wednesday and found to not meet the standard required for use in Finnish hospitals.
Suomen Kuvalehti had reported that Jylhä had thought she had been swindled by Sarmaste when his consignment arrived in Finland and he received funds but she did not.
However Lounema revealed on Thursday that his agency had signed deals with both Jylhä and Sarmaste, but an Estonian bank had frozen the funds when they arrived in Jylhä's account.
Investigation demanded
Minister for Employment Tuula Haatainen, who has oversight of the agency, asked for an investigation of the deals on Thursday.
Earlier on Thursday Yle reported that an Åland medical equipment firm offered to help Finland source hundreds of thousands of N95 masks, but was rejected by the country's agency in charge of emergency stockpiles.
The firm, Optinova, makes parts for medical devices and has good contacts and a supply chain in China.
However the agency rejected its offer in favour of other suppliers, leaving Optinova to seek out hospitals in Stockholm who showed greater interest in the offer.
The company told Yle that they were still open to helping Finland source PPE, as the global shortage has made it much more difficult for anyone to source high-grade protective equipment.
Lounema said on Thursday that four planeloads of PPE would arrive in Finland in the week after the Easter weekend, and that he had to order from abroad to meet demand before Finland starts producing its own PPE.