---
There's been a steady trend of support for the Finns party over the past year and it continues still…
A very "climate change" indoctrinated/orientated Finnish populace is giving support to the SDP's and the Hard-Left's policies, of which the Finns party is in exact opposition to. It's going to take a while to cut through the BS surrounding the bogus "science" being spouted by the monolithic media and academia, but in time it's possible.
On Finland's state TV A-Talk, the Hard-Left's Li Andersson (Communist) tries to peck at Jussi Halla-aho's opinions by calling them "talking sh*t" which is a rarity in Finnish politics, but there's lots of money and power at stake here, so that explains her aggressiveness. Jussi handles her quite well, so she doesn't score any points in my opinion. The program link is here.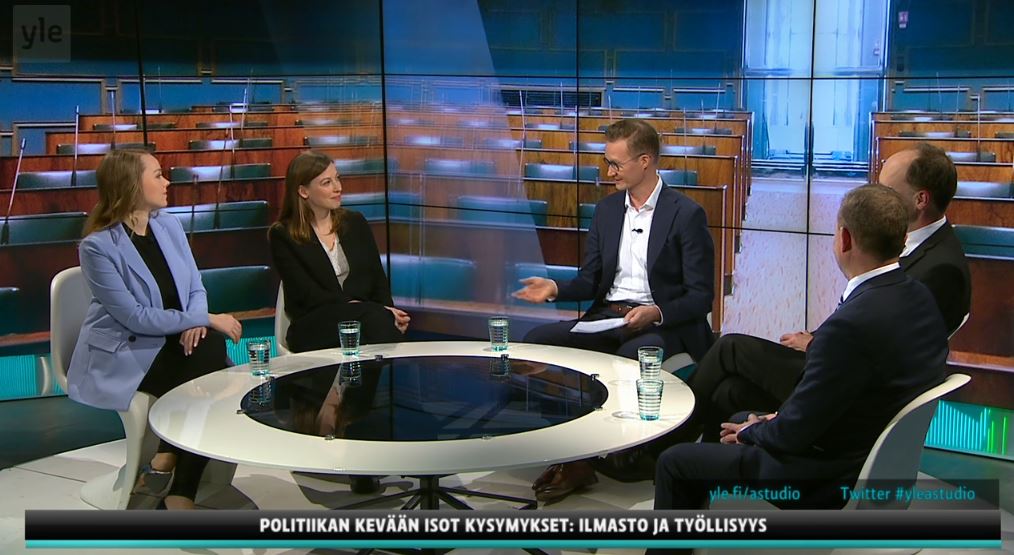 Yle poll: Centre support slips back
The new survey shows growth for the Greens, with the Finns Party still on top. 
An uptick in Centre Party support in January seems to have reversed in the latest Yle political poll published on Thursday.
The survey shows the party on 10.8 percent, close to the lowest number they've recorded, which was 10.6 percent in November of last year.
"The Centre has lost support in three directions: to the Finns Party, to the National Coalition, and to apathy," said Tuomo Turja of pollsters Taloustutkimus, which conducted the poll for Yle.
"The last week of the polling period was especially bad for the Centre"
Weak support in the polls has been seen to be problematic for co-operation in government, as the party seeks to recover lost support while in power.
That was seen this week when the government's much-anticipated climate action plan did nothing to stem the flow of subsidies to the peat industry, which is dear to the Centre's backers in the regions.
The party's leader Katri Kulmuni rejected the idea they should have stayed in opposition, saying that the government is 'better for ordinary Finns' if the Centre is on board.
"To increase support for the Centre we need to succeed in government," said Kulmuni. "That has to be every Centre member's goal and whole-hearted desire."
Kulmuni pointed to the government's targeted investments in road maintenance, pension increases, parental leave payments, education and children.
Dip for Finns Party
The Finns Party has led the polls for months now, but experienced a drop in support this month to just below 24 percent.
"It's worth noting that the Finns Party's support has not risen for a couple of months," said Turja. "The party's support is still noticeably bigger than the other parties', but it has reached some sort of peak."
The poll suggests that Finns Party supporters have switched to the SDP, to the National Coalition and to 'none of the above'.