---
The ruling elite is really of totalitarian mindset here…
The CEO of Yle, Merja Ylä-Anttila tweeted out today that:
We are investing in better discussion and quality dialogue. No hate speech or trolling.

YLE and STT enter into moderation cooperation for online discussions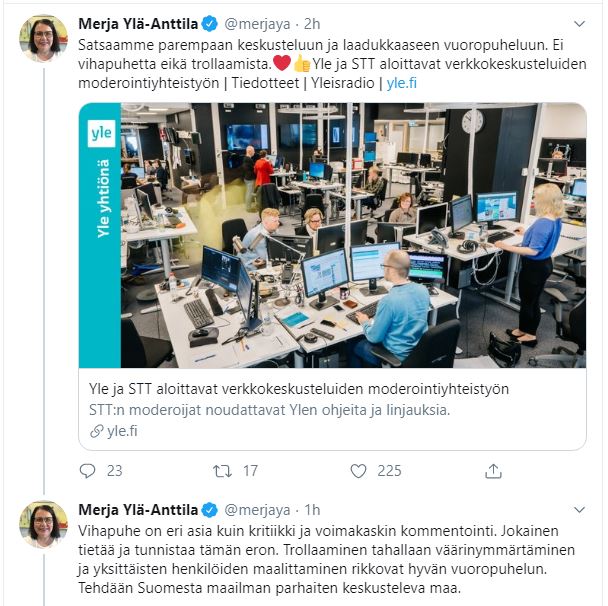 Hate speech is different from criticism and even strong commentary. Everyone knows and recognizes this difference. Trolling deliberately, misunderstanding and targeting individuals, breaks good dialogue. Let's make Finland the world's most talked about country.
I responded:
"Yle hosted Flemming Rose on live TV who literally debunked the concept of "hate speech", proving that government uses it for its own nefarious reasons. Perhaps Merja, you should brush up on his talking points, because you presently sound incoherent.

"She'll refuse to respond, just like any politician called out for speaking nonsense. It just goes to show how political and extremely arrogant they've all become. They award each other, pat themselves on the back, but they're the one who endangers free speech/freedom of the press."

"What's frightening Jari, is when the media, who are supposed to be the check on government, work hand in hand with the government to limit the speech of the public. When they become the sole arbitrators of what is "good" speech, then tyranny reigns. Merja's view IS troubling…"
Here is the speech that was given by Jyllands-Posten's former Cultural Editor, Flemmin Rose on Finnish national TV in 2015: