---
The Austrian People's Party and the Greens – A Successful Coalition for the Future?
| | |
| --- | --- |
| | |
They [the Austrian Greens Party] now enjoy unprecedented attention not afforded to other small political parties. Moreover, the European Union has always viewed coalition governments with a Greens participation as "sexy and future-oriented", with German chancellor Angela Merkel having had her eyes on a coalition with the Greens for a long time.
European media outlets are hailing the new and "future-oriented" Austrian government as a "model for Germany", "the only chance to combat [right-wing] extremism", and "a model that could be worth copying". Criticism, even in its slightest form, has been virtually non-existent.
Whereas the Austrian Greens Party is eco-socialist, capitalizing on the current worldwide trends purportedly to save the planet from extinction due to "climate change", the People's Party champions an eco-social market economy, developed by former Austrian vice-chancellor Josef Riegler. It calls for the balance of a free market economy, social fairness and the protection of natural resources. How these seemingly conflicting views were reconciled in a coalition agreement will be discussed in the near future.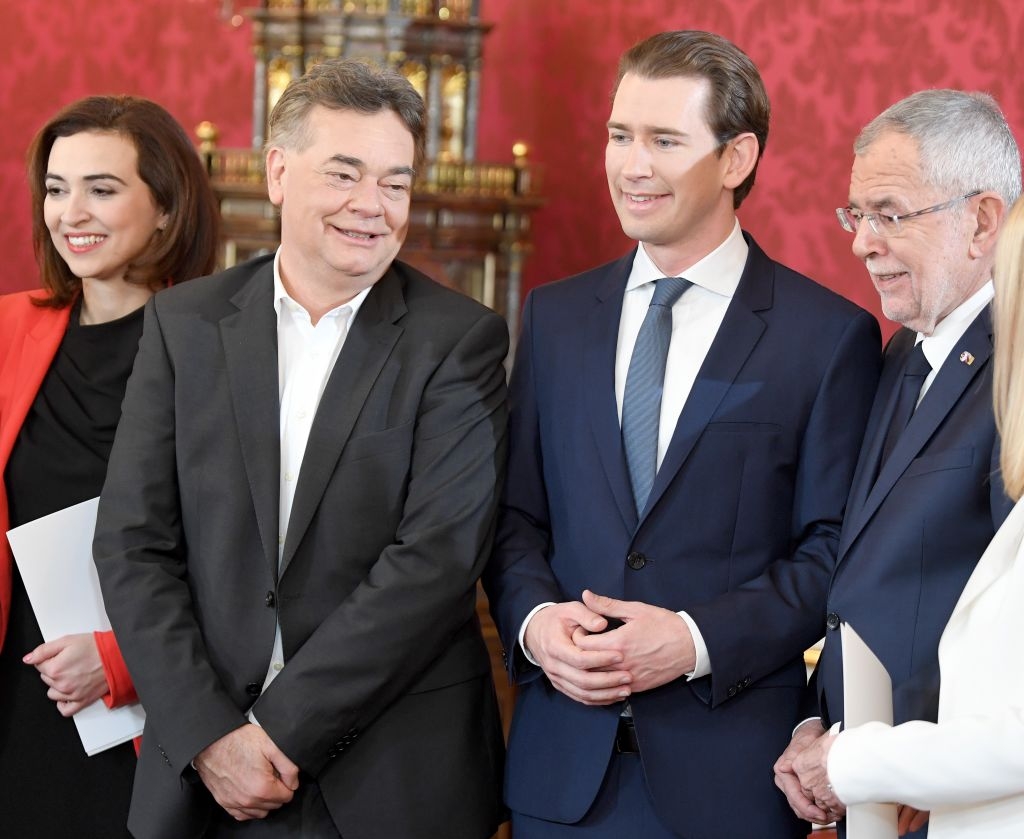 Pictured: Austria's President Alexander van der Bellen (right) stands next to Chancellor Sebastian Kurz (second from right), Greens Party leader Werner Kogler (second from left) and Minister of Justice Alma Zadic during the swearing-in ceremony of their coalition government on January 7, 2020 in Vienna. (Photo by Roland Schlager/APA/AFP via Getty Images)
After the end of a popular coalition government between the Austrian People's Party and the Freedom Party — as well as snap elections on September 29, 2019, and extensive exploratory talks among all political parties — coalition negotiations between the allegedly center-right People's Party and the far-left Greens Party reached their conclusion on January 2, 2020. Austrians had to exercise patience for more than 100 days until they would once again be governed by an elected administration. Since the previous government's crash and the following parliamentary no-confidence vote against then-Chancellor Sebastian Kurz, an unelected, appointed, technocratic caretaker government had been in charge.

The People's Party under the leadership of Sebastian Kurz together with the Greens under the leadership of Werner Kogler garnered 53% of the vote in 2019, the hitherto smallest support for a coalition government. In 2017, when the People's Party and the Freedom Party entered their government, they could count on the backing of 62%, a percentage that remained stable in polls until the Chancellor Kurz called for snap elections following the emergence in May 2019 of the Ibiza-video. which showed the Austrian vice-chancellor in a shady meeting with a woman claiming to be the niece of a Russian oligarch on the island of Ibiza.