---
No, rather easy to predict, more jihad, recruitment, networking, and Islamization of Finnish society…
Point of view: One cold element in interviews with women in Camp Al-Hol – repatriation can have difficult-to-predict consequences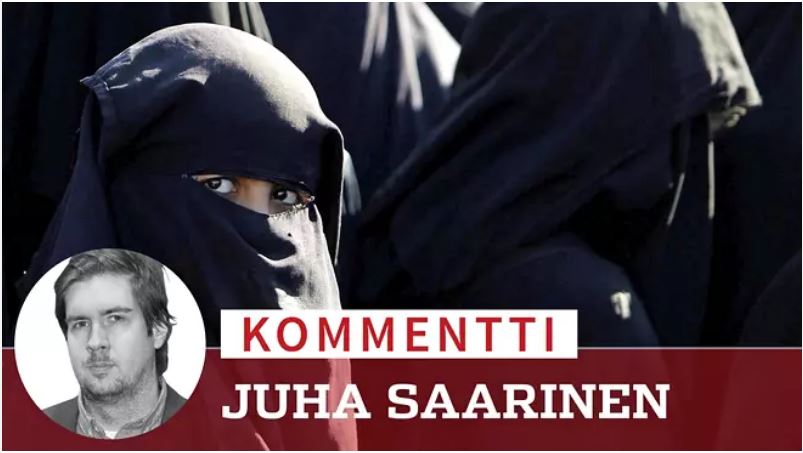 Now we need to focus on how we deal with the potential return of adults from al-Hol, writes Juha Saarinen, a scholar on jihad.
The Finnish government was finally able to resolve the issue of what to do about 10 Finnish women and 30 children in the al-Hol camp under the leadership of new Prime Minister Sanna Marin.
Finland will endeavor to repatriate all children in the camp as soon as possible, but it has no moral obligation to assist the adults.
The government's policy is ambiguous, particularly in the interests of children and national security. It is unclear how many adult women will eventually return to Finland from al-Hol.
Although the decision may well be criticized, it has been made. In the future, the main focus should be on how to mitigate the possible negative effects of the decision on Finnish security.
What have the women done?
Many of Al-Hol's Finnish women traveled voluntarily and spontaneously to the conflict area – some with their children.
Some of them participated in Isis activities. Among other things, they recruited and created and disseminated propaganda. Like many women from the West, they created for themselves much of Isis's guideline on wife and motherhood as members of a broader group.
The security authorities undoubtedly have a more comprehensive picture of women's involvement in Isis than public information. There are many things that are still unknown.
The key issue is to determine whether some of the women who have left Finland have participated in the systematic enslavement of the Iraqi Yazidi population, in the armed activities of the group, or have received training or guidance to continue jihadist activities in their countries of origin.
In public, these women have been referred to as "Isis wives", members of the fighters' family, and "Isis mothers." Such term choices obscure the understanding of the diverse motives and roles of Isis' female members and have created an unfounded image of them as a continuation or victim of their male activism.
Crimes to be investigated
If women are to be repatriated to Finland, it is essential that their potential crimes in the conflict area be thoroughly investigated. However, there are several challenges here.
Terrorist crimes in conflict areas have the same evidence threshold as domestic crimes, which makes it significantly more difficult for pre-trial investigations and trials to progress.
Although there has been a significant increase in the number of pre-investigations and pre-examinations of participation in jihadist activities, the budgets of the investigating authorities have not seen similar developments as in the case of the Security Police.
To date, no person who has returned from a conflict zone has been successfully prosecuted for terrorist offenses in Finland.
Finland should definitely consider and discuss how to support the authorities responsible for the investigation and prosecution of terrorist offenses.
There are risks to repatriation
Even if women had been involved in Isis, their experiences at Isis' last stronghold in Baghuz and al-Hol may have helped for some to break away from Isis and jihadism.
These potential deradicalisation processes need to be pursued if adults are to be repatriated. However, it must not prevent the investigation of crimes.
It is possible, as Supo has estimated, that adults who may be repatriated will seek to continue their activities and integrate into the "jihadist underworld" of Finland.
In such cases, security risks are emphasized. Adults who may be repatriated have spent long periods in the Isis Caliphate and established international networks. They may also have received training or guidance on how to promote jihadist movements. At least it is justified to oppose the repatriation of such persons.
In recent years, as a result of updating intelligence laws, supo has gained new tools for its operations and its budget has grown. The number of people targeted by terrorism has also doubled over the decade. Despite the additional resources allocated, supo has had to prioritize its field activities.
For returnees who are of full age, planning or conducting a terrorist attack is unlikely. Limited resources and the increased need for repatriation to prioritize field activities may adversely affect Supo's ability to detect and inhibit activism among those targeted.