---
Bending over backward so Muslims and their stooge Leftist social justice warriors don't run riot…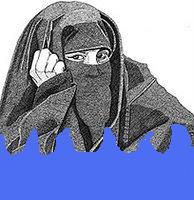 Toilet for disabled at
Helsinki swim hall jammed with people praying, swim hall ended questionable ban: "It was poorly worded"
A ban on prayer on swimming hall premises was removed about a month ago. Old bathing suit guidelines were also changed, "explains the manager of the city of Helsinki's sports venue.
THE Jakomäki Swimming Pool's instructions on the use of bathing suits and the prohibition of praying have aroused debate in social media. Visual instructions and communication have been perceived as problematic and discriminatory.
In the picture showing instructions on permitted swimwear, a Caucasian woman in full swimwear is posing on the left. Below it reads "right". In the photo to the right, a dark-skinned woman is in the water and on the edge of the pool, with arrows showing the hem of her dress and the hood of her headdress. Below the picture is the word "wrong" and next to it is a large red smiley face with downward angles. The focus next to it says: beads, scarves and loose leggings are dangerous.
Petteri Huurre, Manager of the City of HELSINKI  Sports Center says that the instruction has been at the swimming pool for a long time and has not previously attracted attention.
According to Huure, the pictures as such, are in accordance with the instructions, as the use of a swimsuit is allowed, but skirts and scarves are prohibited for safety reasons. Dangerous situations can arise if, for example, the beads are caught on the rope or on the stairs.
"However, using the smiley face has not been wise and the communication has not been completely successful," Huurre says.
According to Huure, the old instructions will be removed and replaced with official instructions from the Helsinki City Swimming Pools.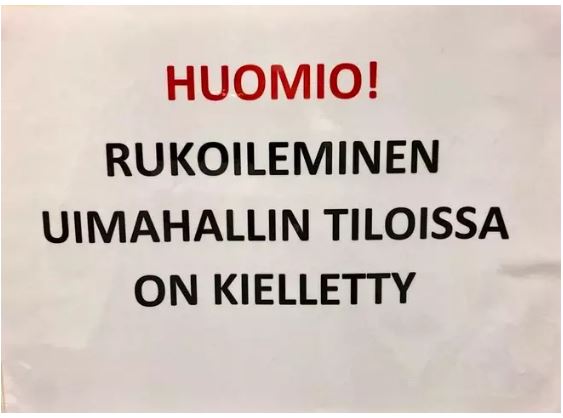 THE sign in the swimming pool during autumn also provoked DISCUSSION "Attention! Praying at the indoor swimming pool is forbidden. "
According to Huure, the sign was formerly on the door of the indoor swimming pool but was removed a month ago because the message was badly worded. "The sign was trying to communicate, though not so successfully, that the disabled person must be able to use it for what it was intended for," Huurre says.
According to Huure, Invavessa was repeatedly used for prayer.
"It was poorly expressed, the intention was not to prohibit praying in the swimming pool, but in the toilet for the disabled."
Now, according to Huure, nothing is on the door of the toilet for the disabled.